For a plus size clothes whore like myself, the privilege of being invited to the Igigi headquarters and meeting Yuliya and Ozlem on multiple occasions is a bit like a standard size fashionista being asked into the salon of Prouenza Schouler for a private fitting with the masters. I do not know what I've done in previous lifetimes to be so blessed in this one, but I have to pat that former me on the shoulder because girl (or boy, or camel) done good.
Last time I was in San Francisco, I was overcome by wedding stuff and didn't get to stop down to say "hey", so this visit, I made no serious plans other than lunch with Igigi marketing guru, Ozlem. I got a call from Laura while driving into the city, inquiring as to my lunch plans, and I explained that I was busy, but if she wanted to tag along, I was sure that Ozlem wouldn't mind. As it turned out, Ozlem and Laura had a total "small world" moment and knew lots of the same people, so it was a total Sex And The City lunch. When lunch was over, Ozlem asked if I had time to come back to the Igigi HQ and check out the newly released designs, as well as get a sneak peak at the designs to come for summer. Uh, twist my arm!
The thing with me and Igigi is that it's a lot like preaching to the choir. I would honestly own 70% of any given collection if I had the funds and the closet space. Take for instance, the Igigi Jackie dress. I bought it for La Wade's wedding, but then it must have been hiding in my gigantic pile of darks (yes, I wear way too much black. Blame the Cure and my impressionable teens) and when they say "Dry Clean Only" with that one, they MEAN it and they especially don't intend for you to wash said Jackie with a load of darks, using special darkness-enhancing detergent. Derrr. The wrap portion of the dress survived without a problem but the beautiful ivory silk dupioni turned into a crinkly shade of pukey lavender. It was my own fault and I was so mad at myself about the whole thing, because I seriously was way in love with that dress and I had only worn it ONE TIME. I whined and whimpered about the dress for weeks, until Esteban finally thrust $150 at me and said "Would you just BUY another one? Because you know that they're going to sell out and then you'll regret it forever." So I did and now I own two, the pretty one and Ms. Hyde, which will never see the light of day.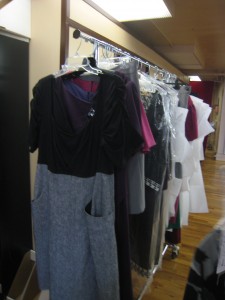 So the moment we walked into the Igigi marketing office and were faced with rows upon rows of dresses, it was a bit like walking into my ideal closet. In fact, I was probably a bit obnoxious pointing out the Igigi items that I already own. I cannot help it! The stuff fits! It fits well! The cut of the dresses accommodates my rack without having to upsize to the point that the shoulder seams are hanging halfway down my arm, and many of the dresses pack like an absolute dream, to the point where you can seriously wad them up in a suitcase and they shake out ready to wear. But wandering through the Igigi workrooms, watching a man with a little quality tool thingy test each and every button on each garment and check for loose threads, you really get the intense understanding of how much care and attention goes into making these fashions. And then you think about how every single thing for Igigi is done by people in San Francisco, from the cutting to the making to the shipping and model action, and you start really hating places like Walmart, that sell gross plus-size fashion made in overseas sweatshops for half the price, and the stuff ends up costing more because it falls apart or starts looking schlubby after just a few washings.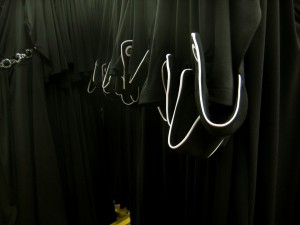 Ozlem had already pulled a few new things in my size to try on, just for fun, and pulled some items for Laura too. We checked out the Mademoiselle Silk Scarf Top with the pencil skirt, which is the same gorgeous fabric that doesn't wrinkle, and a great cut. I suspect that it doesn't translate in photos as well as it did in person, because it was totally one of those things that random women on the street would say "Oooooh, cute top!" when you passed by. And the two silk scarves that are included are exquisite quality. The non-print purple-y scarf has got this amazing iridescent quality to it, which I loved because it coordinated without being matchy matchy.
The Celine dress was SO beautiful and trendy, with the Mandarin collar tie. I already knew that the Igigi princess cut works great with my shape (and I own that one in pink AND blue) so of course, I loved it. The Coco Tailored Dress is exactly the thing for the girl who tries in vain to find vintage looks in plus sizes. What you can't see in the photos is that the contrast trim is a very cool, chunky woven material that would be totally at home on the set of Mad Men.
The Chantal…. oh the Chantal. Imagine liquidy gold fabric peeking out from an exquisite lace overlay, complete with a matching satin tie. If Mad Men suggested that women are either Marilyn or Jackie, this dress is DEFINITELY a Marilyn. If I were the kind of girl who felt comfortable with tanks and having my upper arms exposed, I would be slowly caressing this dress as I am typing this up right now, and even with my insecurities, I was in love enough to walk out of the dressing room and do a little spin in front of the 3-sided mirror. I wish I had the moxie to pull that dress off, quite honestly, because it does not deserve to be hidden behind a shrug.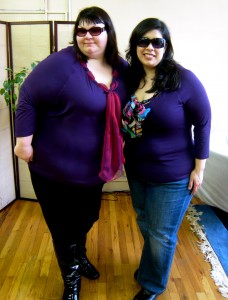 And then I got to the Gabriella, which I started calling Sailor Moon. I suspect that had the Gabriella not looked good on me, I was going to burst into tears, because I love the contrast piping on this garment so damned much, but Yuliya's tender touch with the female form shines through and it drapes in what has become Igigi's signature strength. The giant buttons are fun and quirky and it is, as Laura suggested during our fashion montage, a total interview dress. However, I think paired with a bright bag, a giant pair of sunglasses and some kicky flats, the Gabriella is every bit of a Saturday shopping spree dress too. Laura and I both ended up taking Gabriellas home with us, complete with mutual squees.
Oh, but that was not the best part, Igigi lusters! You see, I also got a peek at some designs that will be coming in late March and early April. One piece was so hot-off-the-presses that Ozlem had snatched it away from the seamstresses so that we could get a look, and the sleeves weren't even finished yet. Even in the raw form, I am very excited about what is to come from Igigi in the next few months.
I've been sworn to secrecy, but I can tell you this: total structured cuteness with exciting lines and amazing silhouettes, and there is a print that actually made me salivate. Yuliya told me that it will be used on at least two designs, one that I saw half-completed (so beautiful) and one that is still on the drawing board. The material is soft and luscious and the colors are straight off of Fashion Week's palette. When I get the "Okay" from Ozlem, I can share pictures of the pieces in progress, but until then, you'll just have to take my word for it: Igigi has totally got you covered this summer.
And double bonus: last year, Igigi sponsored a fashion giveaway for readers of BFD, which resulted in some major fashion awesomeness at Blogher last July. Well, I can't give anything away but you can expect to see some Weetabix + Igigi=4Eva goodness at Blogher Chicago this July as well.
Are you going? Do you love, nay COVET Igigi? Let me know in the comments or e-mail.
So many people who wear plus sizes get sick of staring at the same gross colors and super boring Church Lady clothes. It's like it's some kind of judgment sent down by the fashion industry that fat girls aren't good enough or possibly that fat girls could never possibly be beautiful so why even try? I mean, Tracy Reese is a plus size woman and yet she cannot even wear her own spring line. What's up with that?! It starts to get a little depressing, absorbing all of that second- and -third class citizen attitude. I know that's not the case. We all know this.
But after our fashion montage with Ozlem and the Igigi staff, I was on a fashion high for the rest of the week. I stomped around in my knee high black patent leather boots and mulberry Igigi wrap dress (bought on clearance at the end of summer! Recessionista!) and when I passed by a guy who said "Damn, girl! I'd like me some of that." (I'm not making that up, that was verbatim) I didn't sneer at him or think he was being ironic, but rather just took his statement at fact. I was, in fact, worthy of a "Damn, girl!"
Thankfully, Igigi understands that.