Oh my lovelies, the day is here, the day is here! Remember on my last impromptu trip to SF, I got a sneak peak at Igigi's spring line? Well, those designs are now available for purchase on Igigi's site and I can now share the pictures that I snagged. Here you can see the prototype of the Emelina dress, which is so completely ready for the middling transition months between winter and summer. I honestly love how you could wear this design year round, with either strappy sandals or maybe some thick tights and glossy boots.  The fabric is a winner here, as it's very soft and that awesome Igigi non-wrinkle stuff that they use on many of their designs. Plus? The stretch-linen skirt has pockets. Awesome!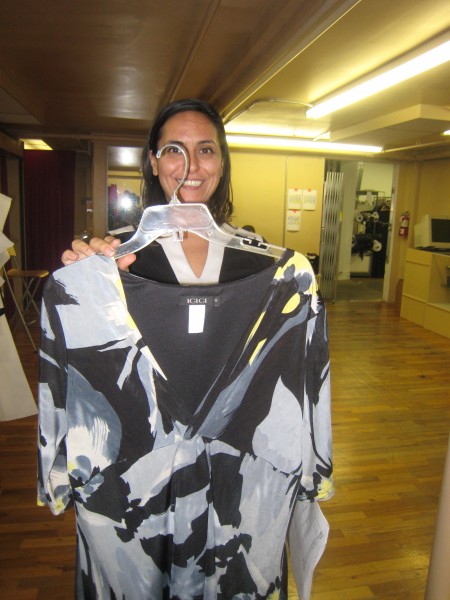 And remember the print that I was salivating over? I loved it so much that I had to take a photo of the giant bolt (this is the "wrong" side of the fabric, it's actually much more vibrant than it appears in this photo). Here it is as a dress and as a top, all of which have just been released today. Can I rave a little more about this fabric? I love the pop of citron amidst all of the greys and blacks. I am seriously drooling over the dress, and I fear that the photos don't show what an unexpected pop of color it has. I mean, I totally admit that I'm a huge Igigi cheerleader (they don't pay me to rave about their clothes, I promise (teehee…why buy the cow when you're getting the milk for free?)) but sometimes Yuliya kicks out designs that absolutely cut me to the core with abject want. As I've mentioned before, the Jackie dress did that to me, and despite the fact that I am not a print person (AT ALL, much to my personal assistant and fashion advisor's dismay), I am absolutely stunned by the beauty of this fabric. We don't get awesome prints as plus-size girls, ladies (Kiyonna has been kicking out a few winners, specifically a chartreuse and grey print that sold out in about four minutes flat last spring, but their quality is sometimes wanting, their site is harder to navigate (no size searches, which is crucial when they have such small runs) and sadly, their sizing is all over the place) so I'm unapologetic for heralding this release.
And also, free shipping on orders of $150 or more, until the end of April! Recessionista much? Seriously, check this out. You know you're dying inside, right?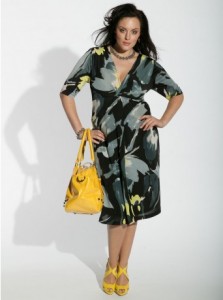 One of the things I love about Igigi is that Yuliya designs for the hotness, but she also designs awesome business wear too. I don't know about you, but I kind of loathe the quality at Lane Bryant (in that there is none), and the only real other options are the Avenue (which is, you know, ok, but definitely is hit or miss) and Catherine's, which is fantastic if you want to dress like your seventh grade math teacher (And let's be honest here: I love love love Catherine's tights and hosiery like I love my luggage and it's absolutely THE place to go if you need a Cat-On-A-Hot-Tin-Roof slip or something like my Iron Maiden foundation slip thingy, but no one ever accused Catherine's of being fashion-forward. In fact, if you're lucky, you can find a design or two in the racks that is so out of touch with Fashion Week that it's now retro, thinks like leopard-print raincoats or dresses with giant circle skirts).
I know, I rant about plus-size fashion a lot on here (and more on Elastic Waist, may it rest in peace, or at least Google Cache) but how hard is it to make a suit that looks like something you wouldn't feel ashamed to wear in public? Apparently very hard, because I've found maybe four in the last ten years, yet how kick ass is the Marcela set of separates? And I've felt the material:  it's got a super-toney touch to it and unlike many plus-size business options, it doesn't feel like you bought your suit at the Dollar Store (such as the dreck that comes from Jessica London or Roamans, which I swear gives me a rash from all the petrochemicals embedded in the fibers of the $59 "wardrober" that comes in fourteen different colors).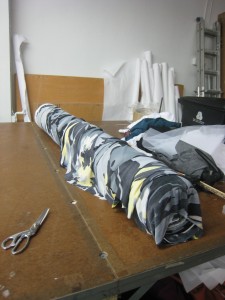 I've heard some comments from fellow Fatshionistas that Igigi is priced out of their range, which is possible (especially in this economy). I admit that the first time I bought a shirt from Igigi in 2002, I thought of it as a splurge for a designer shirt. In truth, I think we've also become so accustomed to the cheapass world of plus-size clothing (ie. Roaman's, Jessica London, Fashion Bug, anything at Walmart) that when we're experiencing sticker shock when we see something that is reasonably priced. Compare Igigi's pricing to the stuff at Banana Republic or J. Crew and you'll see that it's practically the same price points, if not a little more affordable. When you consider the quality and the designer work (Um, you think you're going to see something like the Emma Halter Lace dress at the Gap? With that amazing petticoat sticking out of the skirt at the bottom? I am DROOLING), you're now flying in the same category as Ralph Lauren, DKNY or FCUK, except that Igigi is more affordable (and has killer sales on a fairly regular basis).
If Igigi maintained the same quality as Old Navy, then sure, I would expect them to price accordingly, but they don't. And Old Navy has cheap thin-ass t-shirts that sometimes fall apart after four washings and the garments are sewn in overseas sweatshops while Igigi's work is all done in San Francisco by employees who receive a fair wage. We all know that it's not apples to apples, right?
Sorry, I know I'm on a soap box here, but if we keep kvetching about pricing and refusing to invest in our pieces, then we're telling the designers that yes, fat girls don't deserve fine fashion, which means that we don't get to whine when people like Karl Lagerfeld refuses to kick out designs above a size 10. We're telling the industry that no, we'd rather buy 10 shoddy t-shirts that will end up in landfills than invest in one well-made garment that will look new and last for five or more years. You vote with your dollars, peeps, and I'm as guilty as anyone for buying Old Navy (and in fact, I'm wearing a sweater from there right now as I'm typing this) but I also understand that if you want high quality fashion, you've got to be willing to pay for it. And honestly, I believe that the moment that there are Dior or Chanel-grade fashions available for the plus size market, we'll have made tremendous steps toward true Size Acceptance.
And that will be not a moment too soon.