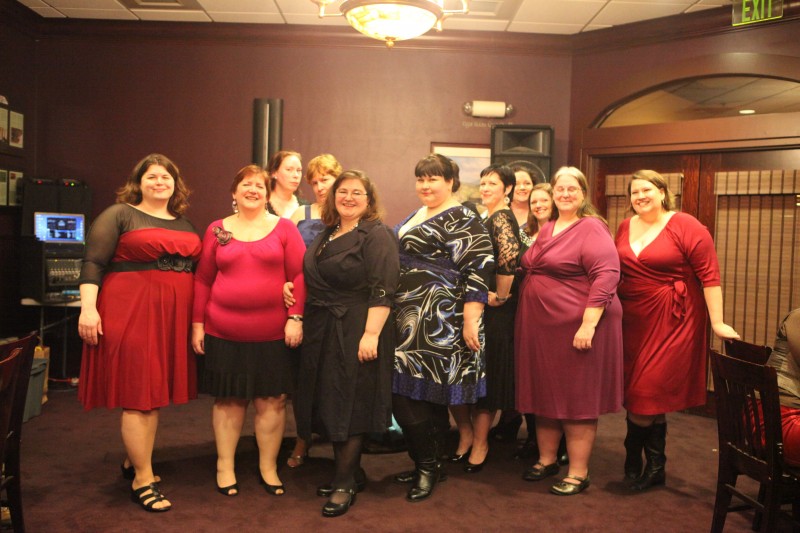 This past weekend was Weetacon, the annual gathering of the best people on the planet and predictably, it was the most amazing time. The word "magical" was used by more than one person, and I am probably biased, but yes, it was magical.
One of the coolest things that I get to do as the figurehead of Weetacon (don't let the name fool you, I am not actually making the show happen: it's a hardcore effort of about a dozen people who are fully engaged all weekend in making sure that it goes off without a hitch) is working with a few select companies that are appropriate to our attendees. This year, we partnered with Death's Door Spirits, Gracie Designs (more on that in a future post) and my personal fashion favorite, Igigi by Yuliya Raquel.
Igigi not only donated shopping sprees to the charity raffle but they also offered to send interested attendees some garments in exchange for writing reviews. Last year, our attendees also reviewed garments, but this year I wanted to really give them a chance to show off so I modified the schedule and included an impromptu fashion show, asking Jake to be our William Shatner ala Miss Congeniality and then asked one of our attendees to be fashion photog for an evening. Rock on.
Igigi went above and beyond our expectations, sending multiple garments per attendee in some cases, but I kept that a secret and instead, put a huge garment rack in my kitchen for a week and hoped that none of our Igigi folks would randomly drop by the house and see it. Then, on Friday night, I hauled everyone out to my car in the parking lot and extracted the garment bags one by one, handing them out to the cheering ladies.
I wish we would have had someone filming that moment, because we were all standing outside in an icy parking lot without coats and everyone was so excited that they didn't even feel cold. Even after they already had their hangers, the joy was just bubbling up and spilling over for their fellow attendees. I swear, Jessie's eyes were as big as saucers when I handed her three dresses, each one exactly what she'd always hoped to wear.
We all then got changed, threw on makeup and prepped to walk the runway. What you should know is that Weetacon is a very accepting and supportive environment: we could have all just schlepped out there with bare feet and with flyaways in our hair, but no. No. That was out of the question for everyone, without it even being said out loud. Everyone was too in love with their outfits to have dared give anything less than 100%. We were going to rock that red carpet like it was leading to the Kodak Theatre rather than in a conference room in a hotel in Green Bay.
And rock it we did. Later, I asked Jake, the emcee, about his impressions of the show, as he had a unique perspective of watching each model as they entered the room and strutted toward center stage. He mentioned several times where he was absolutely struck by how beautiful and confident these ladies were, how some of them absolutely captivated the audience when they entered the room. It was as if they glowed, he said. I mentioned that I had been worried about the fashion show before the weekend, because we were keeping the garments a surprise and basically this would be the first time they were trying each item on and then we were asking them to basically walk out of the dressing room (or in this situation, a dimly lit mirror-less stairwell) to face a room of their peers as well as multiple camera flashes and video. That can be daunting for even the most brave soul and absolutely crippling for someone who is not feeling entirely body confident. He shook his head and said "It was awesome. They were AWESOME. I'm not just saying that. It was really really magnificent. I wish you could bottle how good they all felt because we could feel it too, just being there watching them."
That's some kind of magic, right there. I really wish we COULD bottle it. I wish that every woman could feel that absolutely confident and gorgeous and that the path they follow each day could feel exactly like a runway flanked by an adoring crowd.  I like to wonder what we could accomplish if we felt like that every day, all the sicknesses we could cure and all the ills of society we could solve. It's silly to attribute that to simply a plus size girl finally finding a dress that makes her feel amazing but in reality, having had that feeling in the past, it just might be that simple. And it just might be that magical.
Stay tuned for reviews of the three garments I wore on the runway, along with a chance for you to win a $50 Igigi by Yuliya Raquel gift certificate!