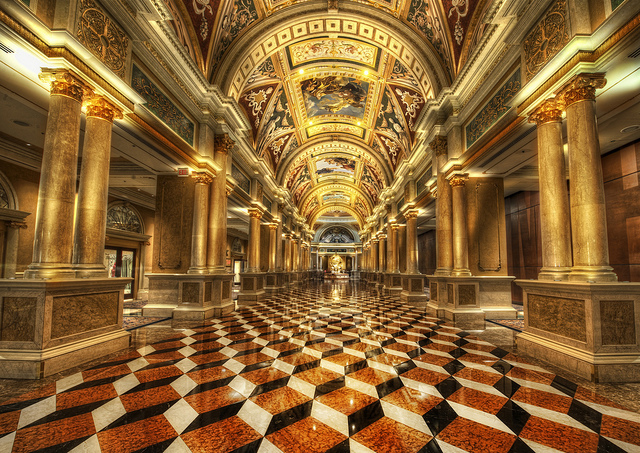 One of the bad things about coming to Vegas for an IT conference is coming to Vegas for an IT conference. The last four times I've stayed in the same hotel as the conference, I tend not to leave the hotel. At all. In fact, for VMWorld, I literally walked into the Venetian on Sunday afternoon and didn't leave its oxygenated environment until Friday morning when I left for the airport. I'm sure there's some kind of cancer risk associated with that. It will likely involve cancer of the genitals somehow, because that's how Vegas is.
Speaking of that, I still have work to do and my company is in Boston, which means that I crawl out of bed at 5:30 in the morning and log in and bounce emails around and in some cases, participate in mid-morning staff meetings before the sun has fully come up (that I know of, from looking out of windows at the outside). This morning, I was sitting at the little suite table, finishing an article and realized that I was sitting in my boxer shorts on an upholstered chair, which was WAY TOO MUCH SKIN for my comfort level.
I explained this to Esteban, who already knows of my disdain for hotel bedspreads and couches.
"It's a chair! There's not chair cooties," he pffted.
"No, not chair cooties. Chair semen."
"No one came on the chair!" he laughed.
"Oh, they have. If there's one thing I know, it's that people have sex on everything in hotels. I pretty much assume that there are guys who just whip it out and treat it like a fire hose."
I wasn't always so afflicted with this mind picture, but a few years ago, Jake and I had adjoining suites at the Wynn. The Wynn is fancy, yes? Super swanky! And these were not cheap rooms (ok, I didn't pay that much for them, but I'm a hotel wheeler and dealer): They were strip facing, high floor rooms that had recently been refurbished and had  a beautiful view of the TI pirate wench show. And in Jake's room, on the gorgeous cream-colored leather settee, there was a very obvious semen spray that was only visible when the light caught it at certain angles. You know, like white crayon on white paper?
If I'm knocked up in nine months, blame the boxer shorts/Venetian chair debacle.