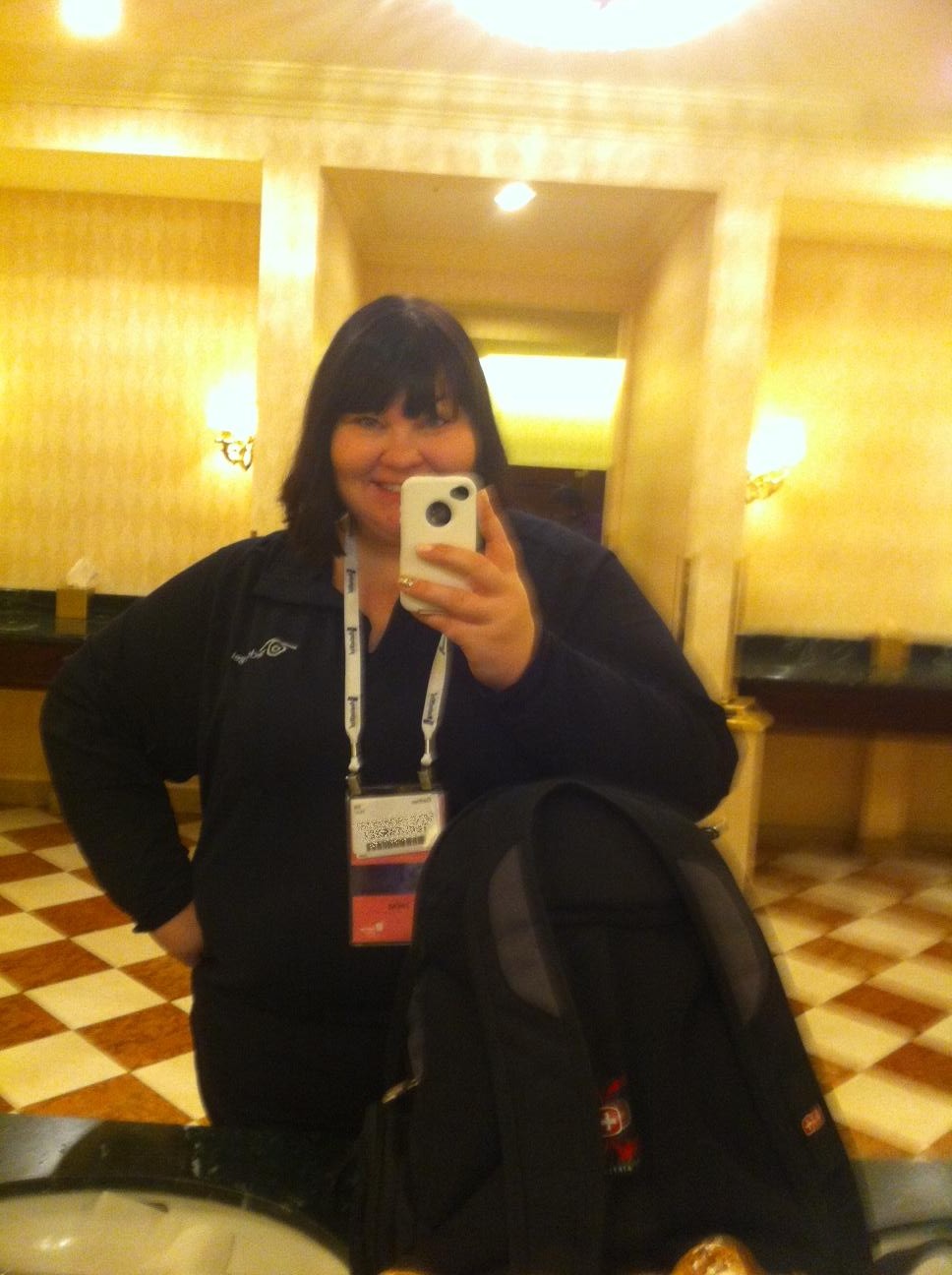 Sometimes I think I could live in Vegas all year and still never do all of the awesome things I want to do in Vegas. For instance, I kind of want to shoot a machine gun. I've never seen the Grand Canyon (I think I might have flown over it once or twice, actually, but unlike Google Maps, there was no label indicating what I was viewing). I've never tried all of the excellent spas because I keep going back to THEBathhouse as it is awesome. I've never dined at Mon Ami Gabi, which people keep telling me is better than Bouchon (I do not believe this). All of these things because I keep meaning to do stuff and the other stuff keeps getting in the way.
One thing that's been on my list of things to do forever is try an oxygen bar. Sure, it's kind of a waste of money, but paying money to sit there and breath in fragranced air for half an hour  is probably less of a waste than dumping it onto a blackjack table and losing it in five seconds. So when I had a spare half hour during my conference and accidentally turned the wrong way on the conference hall to end up in the Venetian mall, I decided to check it out. It turned out that it was kind of awesome. Plus, they massage you and use a vibrating Tingler on your scalp. Basically my idea of heaven is to have someone Tingle me for hours on end, so money well spent. And weirdly, I really did feel in a much better mood and less tired afterwards. Was it the placebo effect? I don't know. Probably.
It certainly didn't help Sephora's bottom line when I dropped in for eye cream and walked out with five new eyeliners and foundation* but no eye cream. Derp. Because I know that you guys love to experience shopping by proxy, I picked up a travel size Caudalie cleansing water (which, btw, if you haven't tried before and you have sensitive skin, get thee to a Sephora right now and snag one… I love those freaking French cleansing waters), a pack of Philosophy's Purity cleansing wipes (which are kind of new and super handy), and the holiday value pack from Make Up Forever that includes two big eyeliners in brown and soft black, plus four little ones in silver, purple, teal and nude. I also picked up the Yves Saint Laurent Touche Elcat foundation, but though I asked the girl for Beige 10, she handed me Beige Dore, which is too dark, so now I have to exchange it. Freaking drunken girls working at Sephora in Vegas. Also, I get no money for mentioning these things, and I can only really vouch for the cleansing water, as the other things are new to me. Well, I use Purity but this is the first time I've tried the wipes.
Another thing that happened yesterday is that I met Dave Barry, America's beloved humor columnist and subject of the no-longer-in-production sitcom Dave's World. He is taller than I thought he'd be  (it's usually the opposite when you meet the famous. I suspect fame involves a shrinker ray, which would explain Tom Cruise)  and extremely nice. I also blathered at him for at least five minutes and he was extremely gracious about it and then I floated off and felt giddy for at least another half hour. Dave Barry!
True story: When I was a wee Weetabix, I used to inhale every bit of printed material that came into our house — sometimes four and five times — so I loved staying at my grandmothers houses because they both got the daily paper. And while I read everything in the paper —  from Erma Bombeck to Dear Abby to the obituaries and the letters to the editor and of course, the actual news — I always saved Dave Barry's column for the last whenever I read the Sunday paper. It was like the cherry on a sundae. Between him and Mike Royko, they were the first people I'd ever read who wrote like the voice inside my head. Or like the wittier version of what happens inside my head. So when I got to shake Dave Barry's hand and tell him that he was one of my childhood writing idols, it was kind of a Big Deal. Also, yes, he does really have that same hair — that kind of little boy haircut that wants desperately to be a mullet. Also, he wears pleated trousers. In other words, he's exactly the guy you thought he was.
Of course, it occurred to me much later that we were at an IT conference, where he had been asked to talk to data center people. He probably thought "How sad that I inspired her to go off and become a data center person. She probably created Windows 8."
By the way, the above picture was taken of me inside the busiest women's bathroom at the conference this morning. The men's bathroom had a line that wrapped out the door, through the bathroom vestibule and spilled into the main hallway. I took a picture of our bathroom, just to gloat to my male friends at the conference. I've attended actual writers conferences before and the bathrooms are never this empty, man. As cool as technology journalism isn't, you have to admit that the perks are pretty awesome.