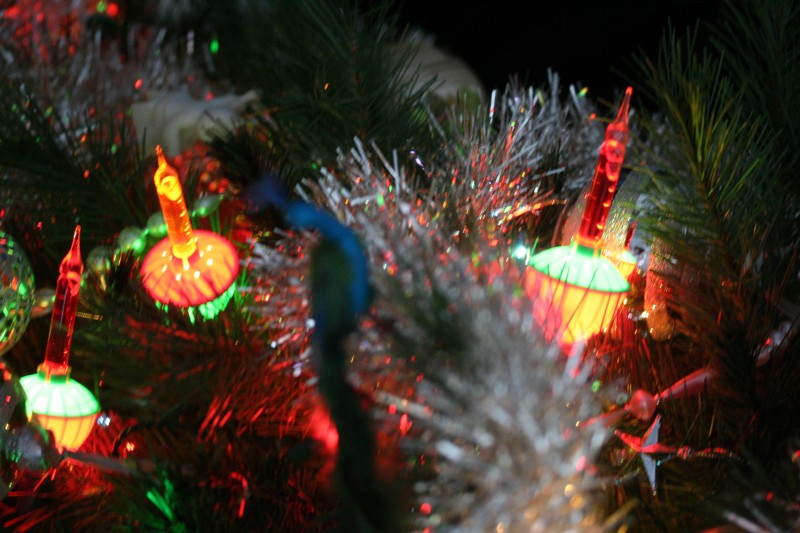 I wasn't planning on doing an annual Holiday Card Exchange this year. Even though I've been coordinating one since forever (oh look, since 2002. Holy crap.) And as the month of November flew by, no one mentioned it, and I shrugged and started to wonder if maybe I was the only one who really loved the Holiday Card Exchange and maybe everyone was just looking for ways to cut back this year, with the economy being kind of a downer and everyone being so busy and insert the very good reason of your choice here.
Then Jayran asked me about it. And someone else asked about it, doing that careful skirting thing you do when you don't want to make someone feel guilty by disappointing you, so you act like something isn't a big deal when in fact, it's a little bit of a deal.
Today, we have snow here in Coldington. Big giant It's a Wonderful Life-sized snowflakes. The kind that really do stay on your nose and eyelashes. And I find myself pining for LED lights to wrap around the tree trunks in our yard (so many tree trunks though… oy) and enough net lights to do all of our landscaping. Our old house had but five tiny boxwood bushes that only took three net lights, but now I need probably ten times as many lights to handle the bush situation we've got all up in here. I researched curtains of lights last night, because of course the fake candle in every window that was good enough for my grandparents is just too twee for me and I have to go all RuPaul's Drag Race up in here. Have to give our neighborhood full of retirees and dark snowbird homes a little pizazz or something.
Alas, I don't have the disposable income to buy $5000 of LED lights to trim out our new ginormous yard, and I doubt Esteban would appreciate feeling like a Las Vegas showgirl every time he walks through the dining room windows (although you have to admit that a 20-foot-long wall of lights would really be something).
But I do have a couple of books of stamps. And I have a fireplace and mulled wine and two dogs who love it when I sit on the couch with them and do projects. And I have a lot of people who like to get holiday cards.
If you'd like to join our annual Holiday Card Exchange, sign up here. Also, here's the FAQ on the Holiday Card Exchange, although we won't be doing the little questionnaire, since we have such a shortened timeframe. The deadline for participation is THIS FRIDAY, December 6th, and the list will go out to everyone before Sunday, December 8th. Yup, there's not a lot of time. There's never enough time, though. Isn't that always the way?
PS. Only the people who've been reading this blog for a very long time will get the reference in the title, but I don't care. If you get the reference, you win!