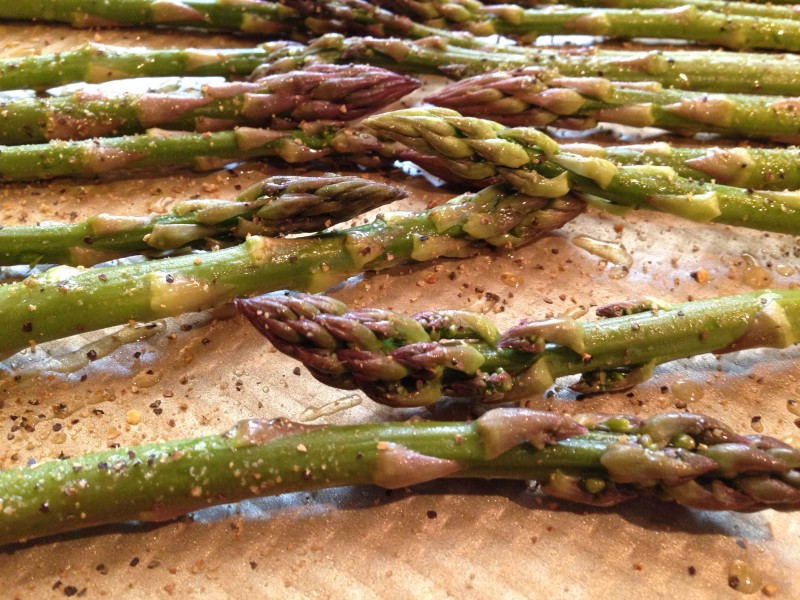 We're headlong into asparagus season. A good life rule is that if you see really good looking asparagus, you should buy it. You know the stuff: where the stalks look perfect, not woody, and the buds are completely closed tight. With the advent of the Coldington farmer's market, I've been scooping up a pound of asparagus every weekend.
I had intended to make a brie and asparagus omelet this week, but last night, Esteban made a fantastic mushroom risotto with king oyster mushrooms (which sliced into coins are very reminiscent of scallops) and it was imperative that we have a nice bright green asparagus pairing.
Since Esteban was occupied at the stove, in the ten minutes of risotto resting time, I could pull together my Go To asparagus recipe. Anyone who has ever eaten dinner at our house during asparagus season has probably eaten this dish, in one form or another, because it's seriously the easiest thing in the world to make and everyone loves it, even the people who say they don't like asparagus. This recipe has several delicious iterations that can please vegans, vegetarians and meat lovers alike.
I got this technique from a former coworker who is one of the healthiest eaters I know and the only person to ever visit a nutritionist who replied "Yep, you're eating better than I do." As it stands, it's a vegan recipe. Of course, it tastes even better the less healthy you make it. The addition of the chevre option came from (I think) Tom Collichio but it might have been Nigella Lawson, and the addition of the bacon was inspired by another dish I had somewhere that featured big time chevre, bacon and artichokes.
You can make this in about ten minutes but it only takes that long because it takes five minutes for the broiler to heat up.
---
Rock Your World Asparagus
Ingredients:
Asparagus (1 lb or so should do it)
Olive oil mister/sprayer or 1 T olive oil
Salt/Pepper to taste or spice mixture of your choosing
Optional: Juice of 1/2 lemon, freshly squeezed
Optional: 1/4 cup crumbled Chevre goat cheese
Optional: 1/4 cup crisped bacon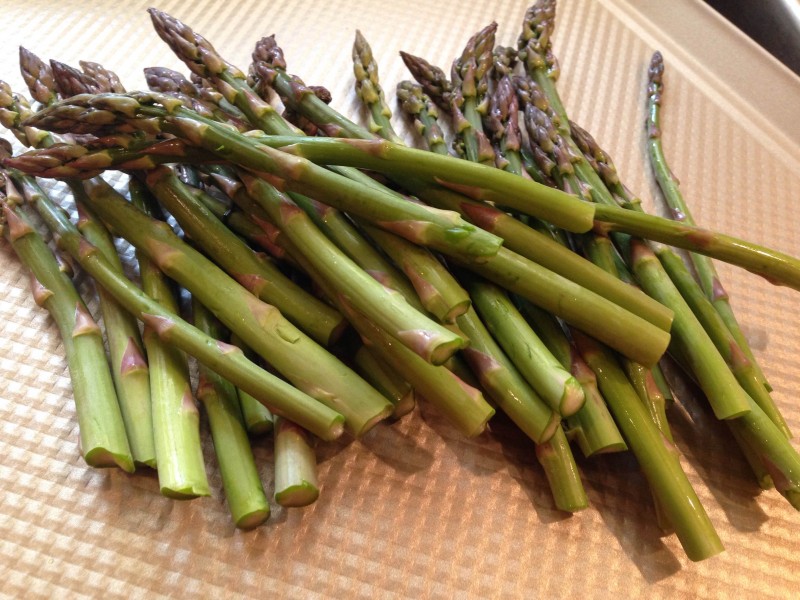 Step one: Preheat oven broiler to 500 degrees or "HIGH". Wash asparagus and bend off the woody stems at the snapping point.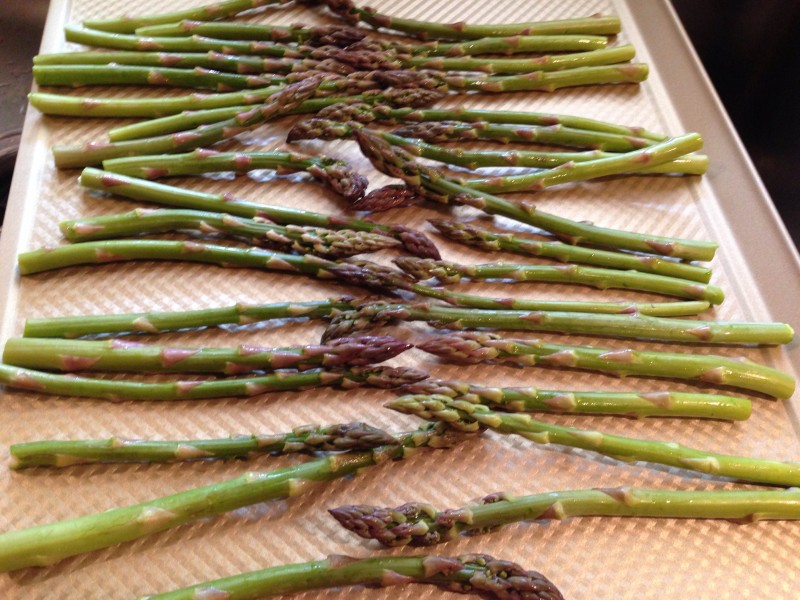 Step Two: Lay the stalks into a single layer with the thicker ends pointing out and the tender bud ends in the middle. This seems a little fussy, but it ensures that the stalks will cook evenly and you won't overcook the tips. These little asparagus are going to be blasted under the broiler and burning can happen so fast that you really want to give them some attention before you stick them in there. This is the most annoying part of the recipe but the side benefit is that it allows you to scoop them off the pan and have them all facing the right direction on the serving platter later, which is uber impressive.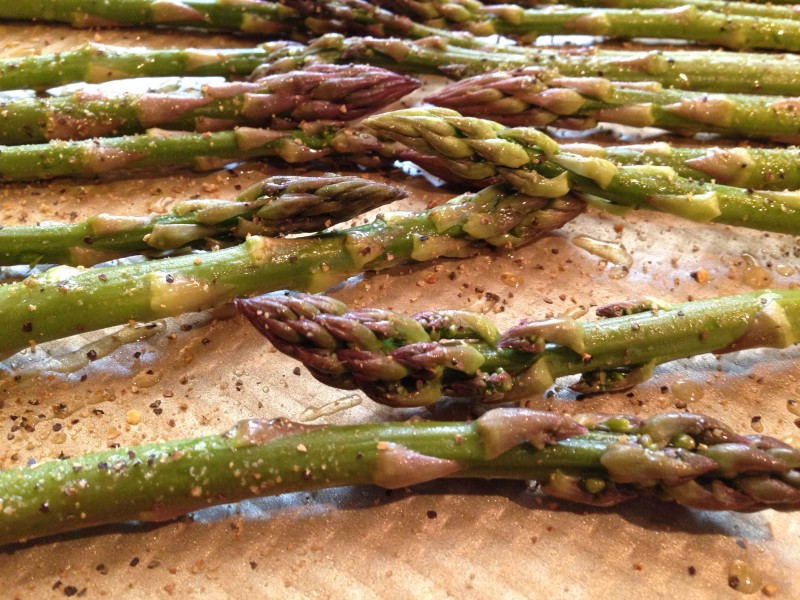 Step Three: Spritz asparagus spears with olive oil mister, or if you don't have an olive oil mister, drizzle olive oil over the asparagus evenly. (You could also throw them into a bowl and toss with the olive oil, but that's just another dirty dish and honestly, the olive oil is mostly to get the seasoning to stick to the asparagus and crisp up under the broiler so it's okay to be a little slapdash about it.) Then sprinkle with your seasoning of choice.
A note about seasonings: You can really get away with anything here. I've done it with just salt and pepper with a little shallot salt. I've also done it with that crappy lemon pepper that you see for 99 cents at the grocery store or Mrs. Dash. My favorite scenario for this is something called Florida Seasoned Pepper from Penzey's or The Spice House. It's a salt-free seasoning that you'd swear has salt in it. It's got a touch of garlic and onion powders in it, plus the expected peppers and citrus. It's really killer on this recipe (and strangely enough, delicious on popcorn).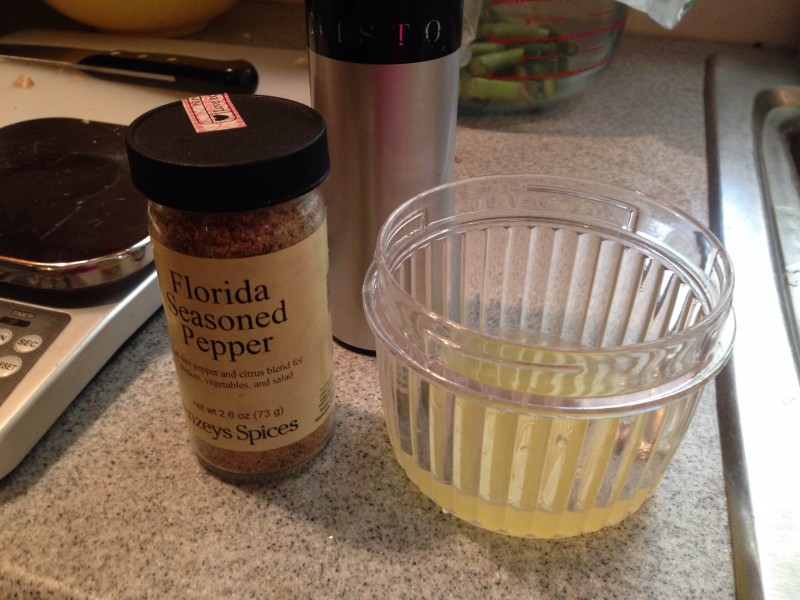 Step Four: Throw pan under broiler and DON'T WALK AWAY. It's going to cook much faster than you realize. After about a minute, the stalks will start to turn bright green. Remove from the oven when you start to see darkening spots on the asparagus, which should be between three and four minutes. It will look like this: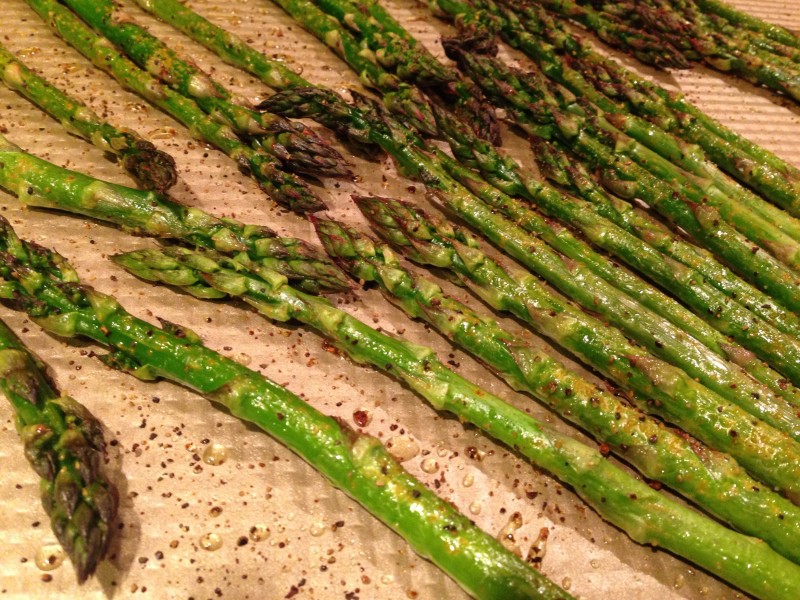 See the darkening bits? See how the oil is just starting to sear the stalks with a little crispiness? That's what you're looking for. (BTW it was REALLY hard to take this picture because the pan was fresh out of the oven and my lens kept steaming up. )
Step Five: Plate and serve. By using tongs, you can grab one half of the dish, plate it, and then grab the other side, and plate it in the same direction as the other side, so that it looks pretty on the plate.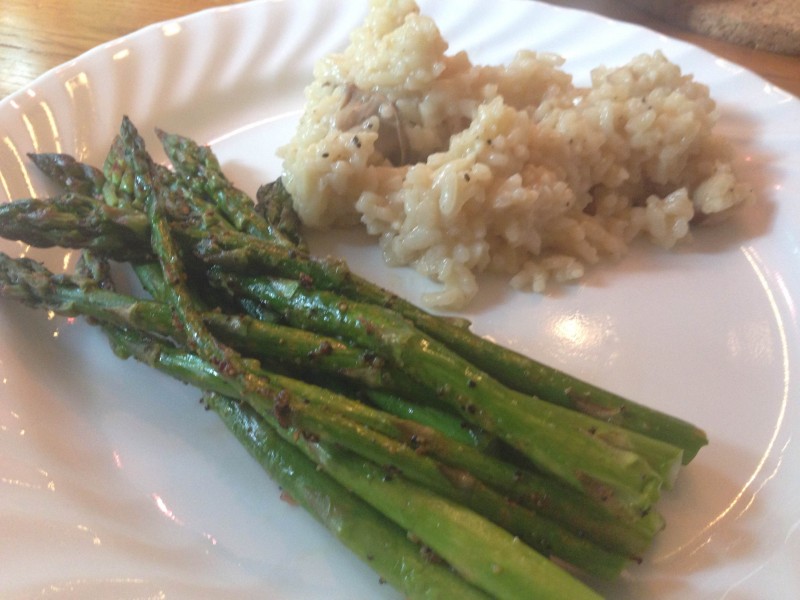 OPTIONAL: Toss with the juice of half a freshly-squeezed lemon. I debated marking this as optional, because we pretty much do this every time. If you have the lemon available, trust me, just hit it up. (STILL VEGAN FRIENDLY)
OPTIONAL: Toss with 1/2 cup of crumbled chevre. The chevre will instantly melt and bond with the spices and lemon juice to make this amazing sauce. By doing this, you also create a future leftover asparagus salad that's fantastic cold the next day. (VEGETARIAN FRIENDLY)
OPTIONAL: With the above, add crumbled cooked bacon. Suddenly even avowed vegetable haters will nom nom this dish because bacon. (BACON FRIENDLY)
Let me know what you think!