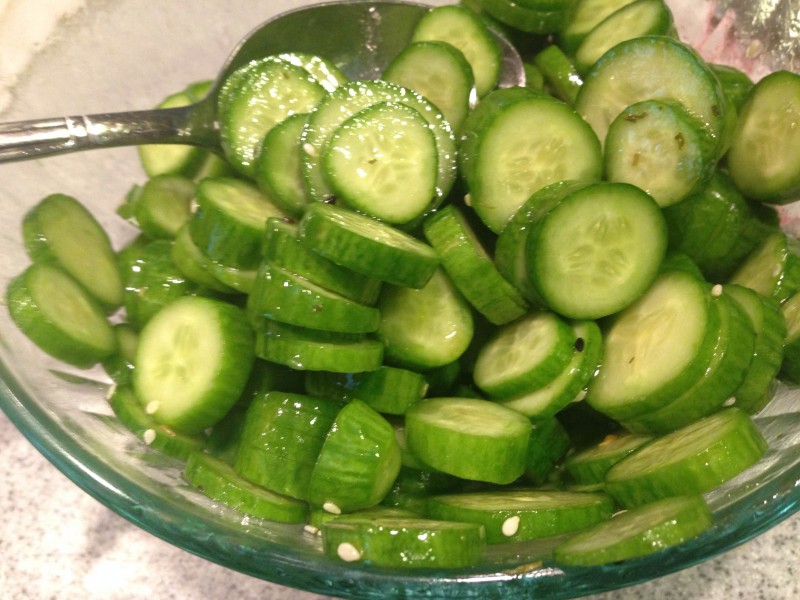 Summer slacker girl is in full swing.  I've been crazy busy with work stuff (and conversely, not very busy), but at the same time trying to really enjoy the summer. We eat totally differently in the summer — particularly in the late summer. We go to the farmer's market a lot. We eat a lot of mushroom-based meals, because our mushroom vendor is amazing at the farmer's market. Last month, Esteban decided that we really needed a Weber grill.
Personally, that's the only kind of grill I ever had growing up, but his was a gas grill family, so gas grill we had for all of these years! And you know what? Charcoal grills are awesome. I'm glad that he deals with all the mucking about with the organic wood charcoal crap, though. Best of both worlds! He gets the fire stuff ready and then I come out with the various grillables, take over and then go back inside with the foods when it's done, and then he takes care of everything else! Perfection.
And with grilling, you want something crispy and cool to go alongside whatever it is you've just grilled. I typically make this super delicious cucumber salad because it comes together in about five minutes and it keeps for several days covered in the fridge. It's one of those things that just tastes good. Sure, it's gluten free. Sure, it's vegan. But you know what? It just tastes like summer. The toasted sesame oil gives it some body and tempers the rice wine vinegar — you need it.
You could use avocado oil if you'd prefer, but I really do think the magic of this salad is all in the sesame oil.
Just do it.
Bix Cucumber Salad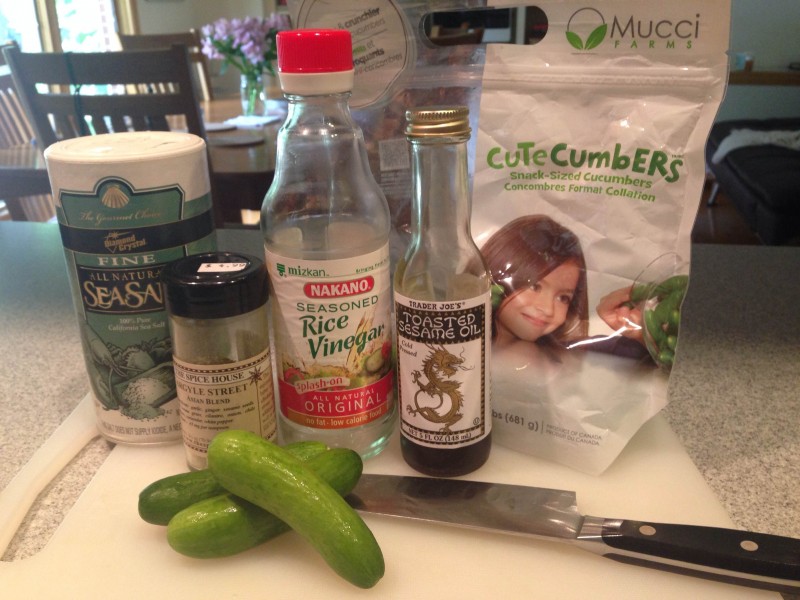 Ingredients
LOTS of cucumbers (I used baby Persian cukes here when I was taking photos, but you can use whatever you have), at least four cups of sliced cucumbers.
1/4 cup sesame oil
2/3 cup seasoned rice vinegar
2 t  sea salt
1-2 T whatever spices and herbs (optional)
As you know, I hate making dishes, so pick the bowl you're going to store your salad in and mix the sesame oil, rice vinegar, sea salt and whatever herbs right into the bowl. I am very particular to the Argyle Street Asian Blend from The Spice House, because it has black and white sesame seeds in it, which look really pretty in the resulting salad. Honestly you could really use anything that strikes your fancy, even just some fresh dill, lemon grass and black sesame seeds. Whatever you do, make sure that if your blend doesn't include pepper already, grind some black pepper into the dressing, because you'll be sad if you don't.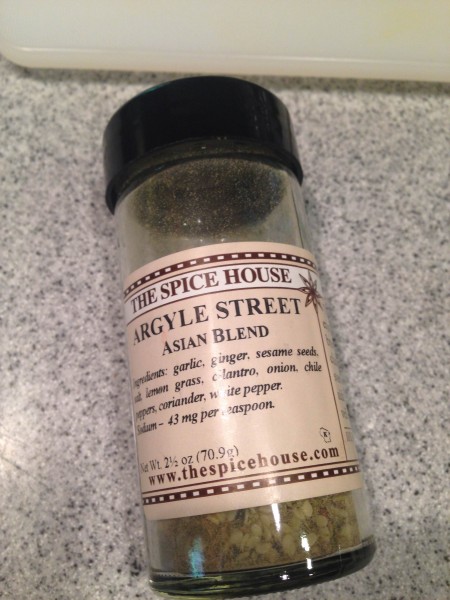 Next, cut a bunch of cucumbers into coins or disks. If you're using "regular" salad cucumbers, you can also split them lengthwise and use a teaspoon to scrape out the seeds so that you don't get the cucumber burpees. I hate that. You could be fancy and use a mandolin here. Or you could do the thing where you stripe the cucumber rind with a fork. You know, mix it up here.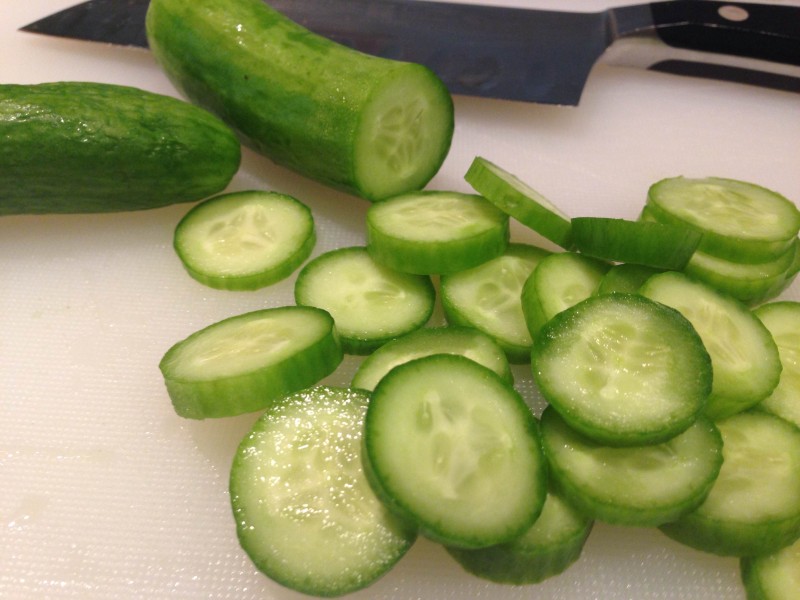 Finally, dump it all into the bowl with your dressing and toss to coat. Your salad benefits greatly if you leave it out of the fridge for a bit because the cucumbers will condense slightly. The recipe above makes a very LARGE salad, but you can adjust the dressing to accommodate however many cucumbers you have on hand. It's also awesome if you add in sliced radishes, daikon, jicama and pea shoots.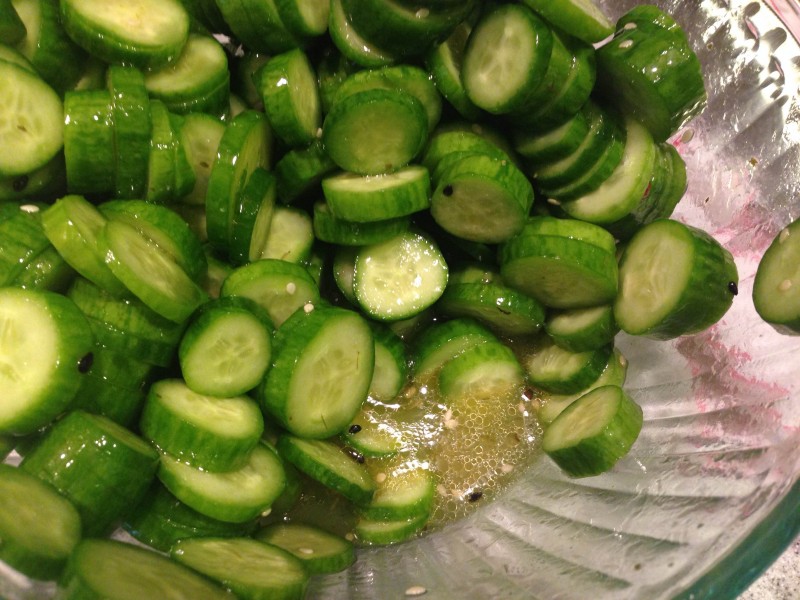 It stands up brilliantly to grilled shrimp or burgers. Something about that crisp slightly sweet crunch and the juxtaposition with the charred smoke of the grilled entree. Bonus? You can easily pull this together in the time that your burgers are resting after their time on the grill.
Are you ready for lunch? Because this makes a PERFECT pairing with some cottage cheese or a nice bit of marinated tofu the next day. Let me know what you think!