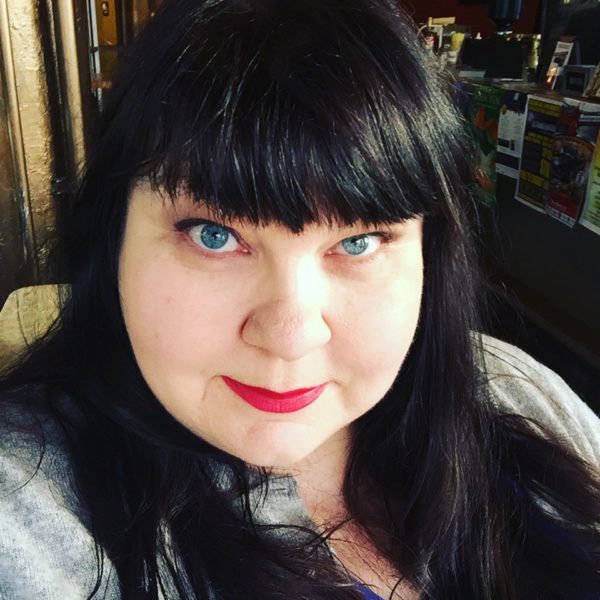 I have a uniform.
Basically if I'm at home or don't have to teach, my preferred outfit is exactly this: Black yoga pants, Brooks running shoes, long-sleeve v-neck t-shirt and a cardigan sweater. It's what I'm wearing in the above picture. It's what I'm wearing as I'm typing this right now. As long as the thermometer reads anything less than 70 degrees outside, this is my preferred way to greet the world. It says "Hello, I am a middle aged woman and I prioritize coziness over giving any fucks." This is enhanced greatly by my decision to eschew underwire bras most of the time, which is the penultimate step of the transition to my final form, which I think is possibly Dorothy Zbornak.
Over the last decade, every year, I have bought myself a new cashmere sweater. Usually this purchase is funded by some unexpected money — a freelance project completed, a gift card, an award or publication — combined with a deal and/or extraordinary sale. It ends up being about a hundred bucks a sweater — a little luxurious for someone who primarily wears head-to-toe Old Navy.
Basically I min-max everything in my life. I use either drugstore lotion or fancy expensive shit. I either drive a super nice car or a super cheap beater. I either fly first class or I take the cheapest most inconvenient flight I can find (such as my upcoming flight to Weetacon which involves a Southwest flight into an airport 120 miles from Green Bay but then coming home on Allegiant out of a closer but different pain in the ass airport). I'm either choosing a cheap noodle shop or Shake Shack for dinner or batten down the hatches, we're hitting Colicchio and Sons. I'll either uncork a $100 bottle cab sauv or I'm singing the praises of the Kirkland Marlborough Sauv Blanc which costs a princely $6.99 at Costco (seriously, check it out, it's yummy).
Apparently I hate bell curves — I live in the margins. And so it goes with my fashion — high or low, there's no middle ground for me.
When I mentioned to a local Las Vegan about my love of cashmere, she said "Oh, I used to love that too. Then the bugs got into my cashmere." I scoffed. I store my cashmere with cedar balls. I get it regularly dry cleaned. Except for my very first cashmere sweater that is now over fifteen years old (which is the reason I got serious about cedar in the first place), I have never seen evidence of insects eating my cashmere.
"You'll see. I hope it doesn't happen to you," she said.
Reader, it happened to me.
The other day, I put on my favorite argyle cashmere sweater and realized there was a hole. No, two holes. No, three. Shit, six holes. WAIT A FUCKING SECOND — dozens of holes. This was no boating accident!
Now I'm in a panic. First of all, it's not like I can find a replacement — that sweater was from four years ago, it has long since sold out. Second, WHAT THE FUCK. How are insects getting into my sweaters when they are stored with cedar? Is the local Las Vegan sweater bug that much heartier than those in Wisconsin? Plus, I have literally NEVER seen a moth in my closet. Never, not once.
Now I'm wondering if it's not happening while it's at the dry cleaner. I checked all of my other sweaters — not a one have holes at this point. Why would there be over a dozen holes in one sweater but not a single hole in any of the others, which are all stored folded one on top of the other on a shelf in my closet?
I'm still wearing my argyle holey holy sweater, despite the damage. I really can't blame the moths. It IS a delicious sweater.
In other news, my new cavalier attitude toward my physical possessions allowed me to take an old nubby weird cashmere sweater and chop off a sleeve to create a luxe dog sweater for my mother-in-law's five pound yorkie Cricket when she visited this past month. Sometimes I shock even myself.
Thus, two of my precious cashmere sweaters have been sacrificed to the fashion gods this month. I am hoping this means that the spring clearance sales will provide a bountiful harvest.