On Saturday morning, I overslept, a drastic difference in the previous night, in which I had woken every hour on the hour to make sure that I hadn't overslept. I also think the nighttime cold medicine I had taken before bed may have had something to do with it. I hopped into the shower and after I got dressed, the phone rang and it was Jake, apologizing for oversleeping. I told him to get ready and meet me at the Starbucks under 30 Rockefeller, just inside the skating rink. The weather was super warm outside and I threw an umbrella into my bag. Once outside, I realized that fuck, it was way too warm for even the black hoodie I had thrown over my t-shirt, so I skipped back up to my room, and ditched the jacket. If anything, my fever would keep me warm.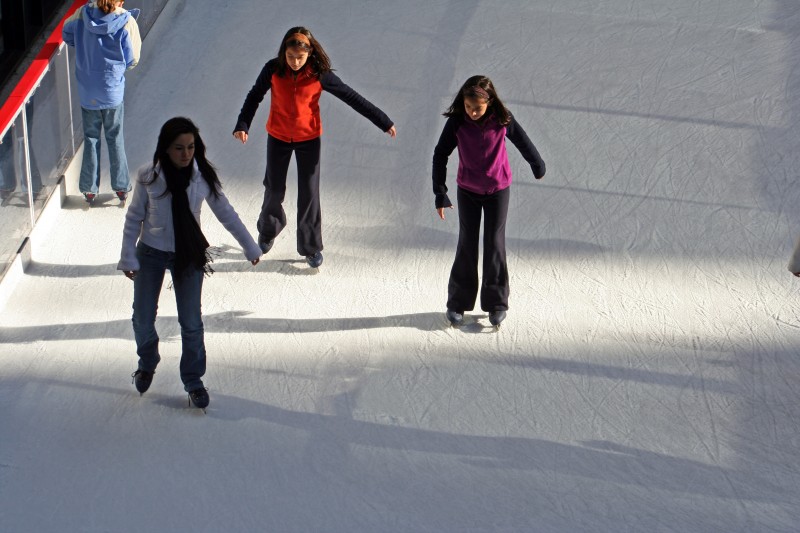 I ordered our coffees, opting for iced coffee on mine. The skating rink wasn't fairing too well with the warmer temperatures and there was at least an inch of water. Each skate was leaving little boat trails and one guy took a rather major spill into the drink, soaking his entire backside and sending up a shower of spray. Even from inside, I could hear the scream from the gaggle of tourists street level. It was sort of awesome and I was pissed for not having the camera out and ready.
Once Jake arrived, he withdrew the trusty foldout maps and we plotted our day. Since I had piked on shopping the previous day, we definitely wanted to do some of that today. It was so late at that point, we figured that we might as well skip breakfast and just have lunch. After that, we could hit Macy's and shop from that point forward. We grabbed a cab and headed to the upper west side, up to Zabar's, home of apparently God's own Brisket. Which they were out of, so I picked pastrami, while Jake got some kind of salami.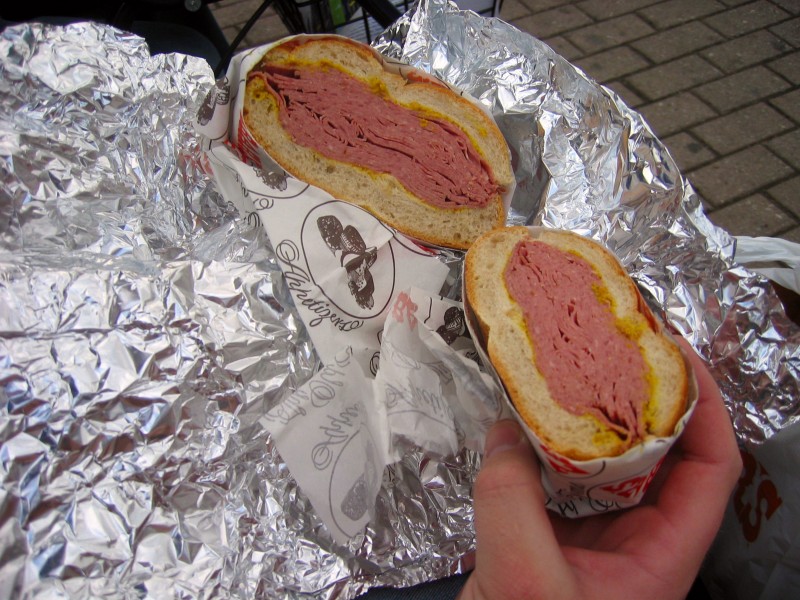 While waiting, we also noticed that everyone was ordering strudels, so we decided to get one to split for dessert. The seating area was swamped but it was so warm outside that we just found an unoccupied bench on the traffic median in the middle of Broadway. There, we made our way through half of our sandwiches, as they were ginormous. Then Jake broke out the cherry cheese strudel. It was about 18 inches long, buttery and'.
And still warm.
He took the first bite, said nothing but placed the strudel so that he was sitting between it and me. Then he made a sound that might have been 'Oh my fuck, I just died and simultaneously orgasmed' or it might have been 'Urrrmph' as he dove back in for another bite. I ditched the second half of my sandwich, because pastrami? I could have pastrami any time. I broke off a length of strudel for myself and somehow managed to drop it on the ground. For a second, I thought about the five second rule, but decided, meh, we could always buy another one. I broke off another hunk and tried it.
Fucking hell.
I think I've mentioned before that I'm not a fan of cream cheese in things. Not only does it make me snorky and vaguely allergic for a few hours, but I just don't think it adds anything to the party. However, this cream cheese? Imagine a fluffy cheesecake filling, wrapped in your perfect ideal of a flakey golden buttery crust. It reminded me a lot of the Thomas Keller cheese Danish, which was cream cheese also and somehow something MORE than just plain cream cheese. The filling sort of tumbled forward, blending with the cherries and creating this perfect balance of rich velvety mouth feel and the bright warm syrupy taste of the cherries. The crust was actually glistening with butter, but it wasn't overly greasy, just perfection. Sheer perfection. Jake shared his second piece since my second piece was on the ground at my feet. And somewhat on my purse. After we finished, I picked up my purse and looked at the cherry cheese schmear and said 'As God as my witness, I'm really not sure what to do about this' which was of course reminiscient of our trip to Bouchon and the perfect ham and cheese baguette experience, where half an hour later, a niblet of ham was discovered on my iced chai latte cup and Jake ended up licking it off. I was ready to fellate the filling off my purse, but a gentleman seated on the next bench leaned over and handed me a wad of napkins, saying 'You need this more than I do.' We then had a delightful chat with him about what to do and how safe the subways are and what crazy weather it was.
I had nothing but the nicest experiences with New Yorkers. The particular New Yorkers I talk with on the phone every day at work might be assholes, but the people walking around the streets of NYC? Are absolute sweethearts. And don't let anyone tell you differently.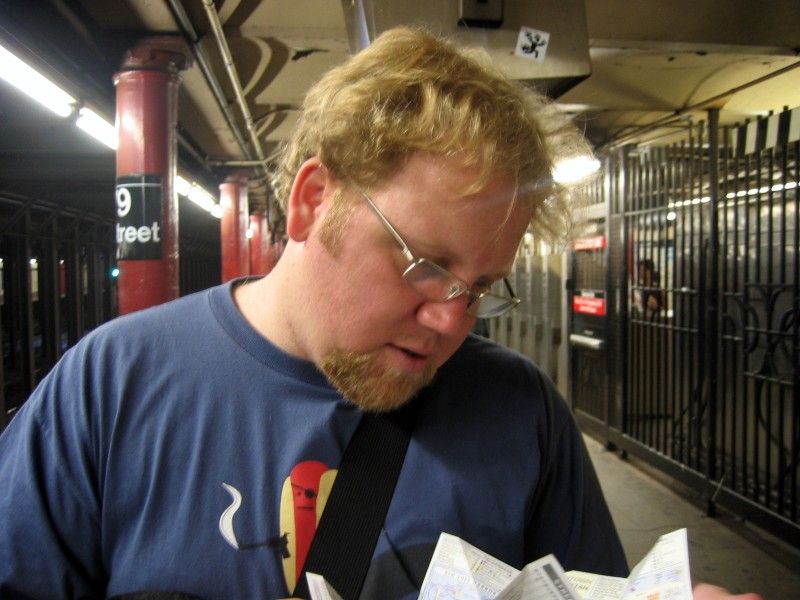 We jumped onto the subway and then got off at Sixth. Jake wanted to make a pitstop at the hotel so that we could drop off the second strudel we bought for later and also the Zabars souvinirs Jake had picked up for his parents, but another weird flash of fever came over me and I just really needed to walk for awhile, feeling like if I went back into the hotel, I'd fall over onto the bed and take a nap, so I waved him off to take the subway and headed toward Herald Square, snapping pictures for awhile, slamming some ice water and then jumping back on the subway when I got sick of walking.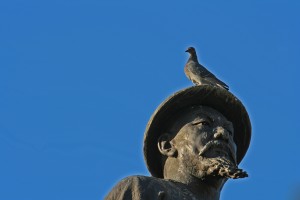 At 34th Street, I stopped into a Pax and picked up an iced raspberry tea and chugged it, then slammed another ice water and started to feel better. Jake caught up with me by the Chanel counter and we shopped the men's department for a few hours and then headed up to Women's Plus, where I was surprised to find that they actually had some cute stuff. I tried on about eight things, including an Anne Klein dress that was cute (although I had it on over my jeans) but ultimately was a lot like my Igigi wrap dress but not as flattering. I did end up buying one shirt that was definitely not something I'd normally buy, but what the hell. It was on some kind of super clearance and was kind of cute. Then we hit the Fur Vault, where I managed to refrain from making a huge impulse purchase only because it was so blessedly hot outside, then back downstairs. Jake hit the Macy's Starbucks for a pick me up and I ended up getting a lipgloss custom made at the Prescriptives counter, which is really just another reason that I love New York. Anything you secretly really want? You can get it there. Somewhere. Somehow.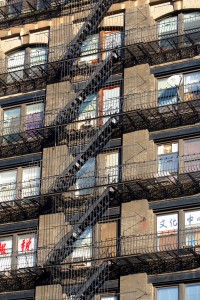 We took a hotdog break in Herald Square and made plans. I wanted to visit the New York branch of Fauchon, and since it was almost five, worried that it would close early on a Saturday, so we hailed a cab and raced over to 60th, where I was right, it was going to close soon. I bought a few impulse purchases, including some fruit pastiches and some Madeleines, and then we headed back to the hotel on foot. On a side street, we saw a guy with a sheet and some knock-off purses. I was under strict orders to watch for knock off purses, so I checked out his stuff, and it was actually pretty nice. A bunch of blonde Newpsie types were already oohing and aahing over his selection. I asked if he had any Prada and he showed me a gorgeous ostrich bag that, in the gloaming, looked truly gorgeous. He also had a black leather Burberry that was awesome, but when I held it up to the light, the metal label was sewn on so completely crooked that it looked ridiculous. A closer look at the ostrich bag revealed a similar imperfection, but not as obvious. He wanted $45 and I offered $25, which he shook off, so we walked away. My suspicion though is that if the blondes had not been there, he would have taken $25 without a moment's hesitation.
At some point, I also tried a roasted chestnut from a street vendor. And learned that I really really really do not like roasted chestnuts. It's a proud moment in the life of any socialite, the first time they throw up on 5th Avenue. I felt just like a Hilton!
We got back to the hotel and collapsed in my cubby amidst our shopping bags while we decided what else to do and watched Iron Chef America. When it was finished, we decided to get ready to go out, since we had flaked the previous night and this was our last night in town. Jake left and I took a shower, then dried my hair and threw on another pair of tights, my paisley Igigi wrap dress and black boots, then threw my black wool pashmina on over my shoulders. I had tried to get reservations at Babbo the previous week, to no avail (the line was busy every time I called), so instead, we just jumped in a cab and asked to be let out on Restaurant Row. I was hungry for chicken parmesan and Jake was into Italian as well. We ended up at Becco because we liked the logo and it turned out to be the restaurant of a PBS chef (Lydia?). It was four million degrees inside and we were happy to get a table since we didn't have a reservation and it was prime Saturday dinner hour in NYC (9:00 pm). We started with an incredibly fragrant Parmigianino and proscuitto plate. They didn't have any chicken parmesan, so I opted for the veal instead, which was, well, really bland and had a ginormous bone that we kept making jokes about. Jake's gnocchi and stuffed peppers was very tasty, though, and they had an impressive wine selection.
A sales clerk in French Connection told us that there was a good dance bar in the Village, but when we cabbed over there, we couldn't find anything, although some random folks on the street did invite us to tag along with them to a salsa club. And I did do my very first Jell-O shot at some random hip hop joint. Damn CBGB's for closing. Damn them to hell. While we were surfing the city guides and watching Iron Chef earlier, I had read about some place called The Roxy in Chelsea, which sounded fun, because they had rollerskating in the club! Rollerskating! Fun! So we caught another cab to Chelsea. Which was, I have to say, really sketchy. I refused to get out of the cab until we made visual contact with the club, and then followed the stream of buff young men into the place.
We should have known that something was up when there was a thirty dollar cover charge. Once inside, it was like nothing I've ever experienced. The first thing I saw was a naked man dancing on the bar while someone gave him a blowjob. Except that was what my mind saw, because in actuality, it was a MOSTLY naked man dancing on the bar while someone held a dollar in their teeth and tried to stuff it down his jock. The dance floor was filled with shirtless men and the entire place was thumping and strobbing and fogging and just permeated with testosterone. But at that point, we were sixty dollars in, so we decided to sit somewhere away from the shirtless gyrating men (and the gyrating ass cracks on the bar) and have a drink. We settled into the abandoned couch seating area and watched the dancing, feeling very uncomfortable. I headed up to the bar and tripped on one of the multi levels, but three guys lunged to try to stop me from falling. Up at the bar, the bartender was clearly straight or at least shy about looking at my cleavage (straight guys try to maintain eye contact while taking surreptitious peaks to make sure the cleavage is still there while gay guys either completely ignore the cleavage or just openly ogle) and wouldn't let me leave the bar with two drinks (one drink per wrist band, since apparently it was 18+ night'. Ooshy!) so I had to slam mine and then bring Jake his drink. When I returned, he was surrounded by screaming little bois who apparently had forced him to dance on the table. They scattered but returned minutes later to flirt with me and then demand that I dance on the table. One of them grabbed my boobs, another grabbed my ass, and the shy one (Donnie) told me I was beautiful. And then they all danced around me on the table like I was their diety or something.
Clearly, I'm in high demand at the gay clubs.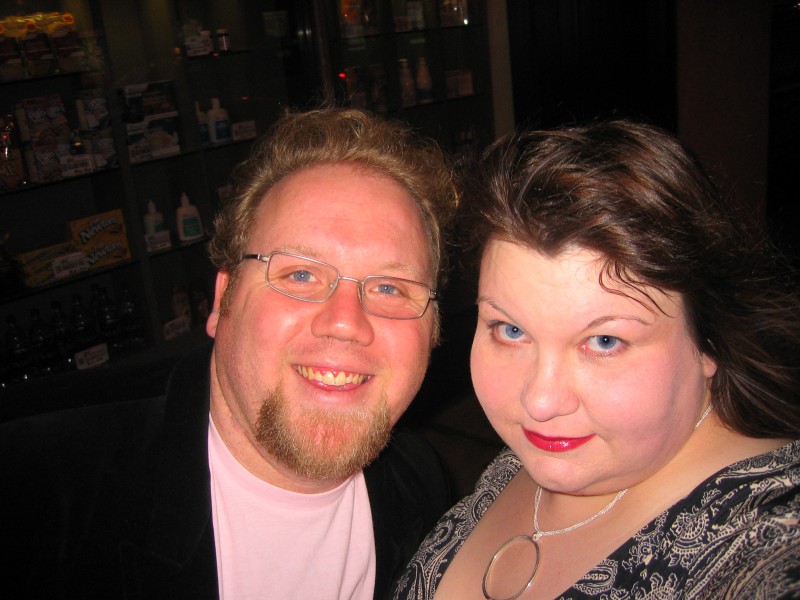 Notice that the stiff breeze that is blowing my bangs straight up into the air still cannot dislodge several strands plastered to my fevered brow.
A few more vodka and cranberries, done in the relay fashion, and we had adopted Donnie, who had kissed me very chastely on the cheek at least fourteen times and then screamed and giggled and asserted that he was a boy when I offered him some of my custom lipgloss (when I am drunk, I will try to put make up on you' be warned). We ventured over to the couches near the bar, tired of the relay drink approach, where I bonded with a very impressive drag queen over her shoes (tragically, they were size fourteen and therefore we could not trade) and then I made my way into the women's bathroom which was filled with men and also, very dirty and scary and the bathroom attendant yelled at me when I balked at one of the stalls 'This is Gay Night, what do you expect?!' The women's bathroom was frightening, but Jake assured me that they were probably flocking to the women's bathroom because the men's bathroom was terrifying.
And then we danced. It may have been for an hour or three, although it only seemed like five minutes and then it was 3 am and Jake, who was crazily sober considering that he claims to have matched me drink for drink, declared that it was time to go. Which was a good thing because drunk? Yeah. It was time. I suspect that it was the fever or maybe the cold medication because holy hell'. Spinny and not good.
Jake flagged down a town car (We always have town cars rescue us from scary clubs, isn't that an odd coincidence?) and then I apparently had inappropriate conversations and then had some kind of reenactment of a Vince Vaughn movie on the sidewalk outside of Radio City Music Hall. Whatever. I refuse to believe any of this until someone produces video evidence or something.
Jake dropped me at my floor and I surprisingly managed to get the door to my room open. I whipped off my boots and then fell onto my bed and watched the world spin and had fever sweats for about an hour, then got up, took a chilly shower and then felt cool and still enough to fall asleep.
The next morning (or rather, later that morning), I felt pretty good. My hair was still damp from the shower six hours earlier, so after Jake called to see if I was up, I threw on clothes, including the new Macy's shirt, and was completely packed by the time Jake knocked on my door with coffee. We tried the leftover strudel from Zabar's, but apparently I did have a touch of a hang over because I just couldn't eat more than two bites. We checked our bags with the valet and then back out to 5th Avenue to shop at Sephora, then up to Times Square, which has changed seriously since the last time I was there. Last time I think I saw some woman's vulva, but this time it was more like an open air shopping mall. And more fucking tourists. We stopped at the Hard Rock caf' so that I could purchase a hat for my father-in-law and while I was there, I made a pitstop at the loo, where I had to crawl over someone's ATV stroller. How Hard Rock is that, strollers and women with big hair and belt purses. Also, I seem to remember that the old Hard Rock was on some side street somewhere, so it must have moved. However, even I could not resist the allure of making my own M&M combinations, so Jake humored me while I went with the rest of the tourists into M&M World to make a baby blue and brown mix.
I did spot another knock off purse vendor and as I was approaching the table, a guy asked if I wanted a knock off purse. I said yes and he asked what kind I wanted, so I said "Burberry". He then led me down a sidestreet, over to his hoopty van and then stood between the van and a trash bin where he showed me a barely concealed Burberry bag and said "Ninety". I shook my head and said I'd pay twenty and then prepared to walk away. He knocked the price in half and I still shook my head, laughing and saying that it wasn't a real Burberry. He asked how much I'd come up, and I said "$25 tops" and he knocked it down to $30. I started to walk away and then he agreed to $25. All the while we're wedged between a van, some trashbins and a mailbox. I mean, this deal actually took place in the gutter! It was so awesome! I didn't even care about the purse, I was just tickled by what was, as Jake described it, the sketchiest of transactions.
Then we decided to find Parson's, so that we could make a mini movie of ourselves running in and out of the doors. I didn't remember where it was, but knew that it was near Bryant Park, which wasn't too far away. I called information and they gave me an address, so we caught a cab, which took us very very far away. To Parson's. Which was not the design part of Parsons but rather a different part. The Tim Gunn Parson's was exactly a block from where we caught the cab. We are stupid. However, we caught another cab, laughing at our idiocy, and then found Parson's, which was locked and we could not film ourselves trapsing in and out of the door ala Andrea ('Designers?') although we were very tickled to see that it was just a few doors up from a Red Lobster. Then we called information again to find Mood, which was also closed, but we did find it and gaze at the windows. Stupid Sunday!
By that time, it was getting near our departure time, so we got another cab (this is where all of my cash went, I suspect, since I only came home with two hats, a scarf, a shirt and some Fauchon stuff and yet, so very broke) and went back to the hotel, where we sat in the lounge and decompressed. Then we grabbed our luggage, trotted up to 6th and bid our adieus until March. Then I caught a cab and Jake jumped onto the subway and off we went to our respective airports and our respective states and our respective lives.
It's hard to have a long distance best friendship, I tell you, but a few well chosen good weekends make it possible. Oh so possible.