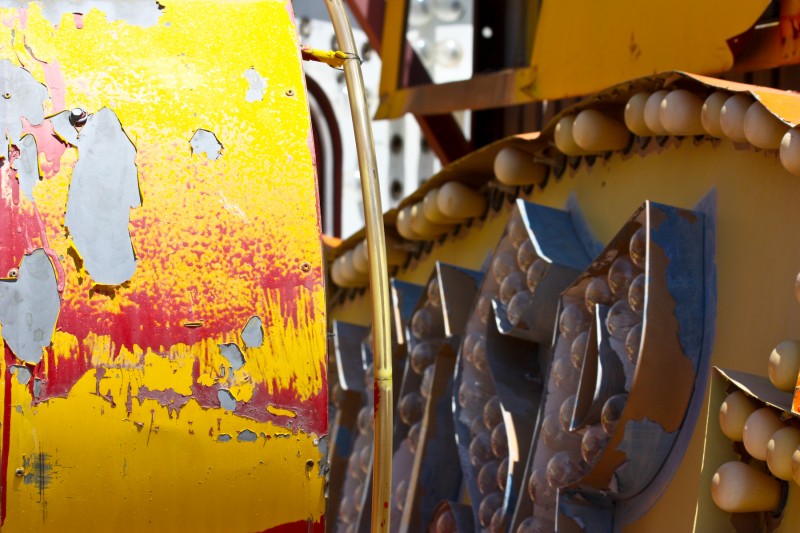 There's a big buggedy boo at work right now, which always forces me to do a mental course correction. Sometimes I think the biggest bit of consternation in my gourd is the fact that while I'm damned effective at what I do, there's still a bit of pointlessness to it. It always comes down to the zombie apocalypse. Doctors are useful in a zombie apocalypse. So are builders and mechanics and cooks and anyone in the military and probably ninja assassins. Hell, even storytellers will have their moments. You know what's not useful? Excel spreadsheets. There will be no need for conditional formatting or vlookups in the zombie apocalypse, of this I am certain.
To a greater extent (and probably even more navel-gazy), I think a lot about what individuals do to make the world a better place. That's why I think we're here, a question I ask myself every single day: what did I do today to make the world a slightly better place. I don't have any delusions of grandeur: the improvement I have on my surroundings is measured in millionths of a percent, but still, it's got to be something, and certainly it has to net out to a positive contribution. It's not just about refraining from being an asshole–failing to recycle, over-consumption of consumer goods, giving self-serving advice, all of that subtracts from the daily balance. It's harder than it seems to stay in the black.
After all, one of my most integral beliefs is that we are responsible for being stewards to the world. I have a roof over my head and can afford $4 cups of coffee, so it's my duty to also pass along a percentage of that good fortune to those who can or do not have those luxuries. Some churches call this tithing and since I don't belong to a church anymore, every month I donate a percentage of my income to a charity that makes the world a better place somehow. One of my attempts at adding to the bottom line is the Weetacon Charity Raffle. It started three years ago when I had an idea while writing a blog post for Elastic Waist, during my 30 Days To A Happier Life series. After all, I had a ton of beauty swag that I was just giving away to my friends when they'd stop by: why not make them work for it and benefit a local charity at the same time?
That year, we raised over $400. Last year, the Weetacon posse also contributed items for the raffle. We raised over $1100 last year. This year, we got donations from outside of Weetacon. Bloggers, Etsy sellers, PR folks, our friends at Igigi and Saint Brendan's Inn as well as the Weetacon posse donated items.
2009 was a year of economic uncertainty. Our Weetacon attendees come from all socio-economic backgrounds and some of them have been hit by the recession pretty hard, losing jobs, working through debt. Some of them flew into far-flung airports and shared rooms so that they could afford to come to Weetacon. We even have a Weetacon Tribal Fund established to help cover registration if needed. I did not have high hopes this year for Paul's Pantry, although I tried not to let it show. I cleaned out the beauty closet, packaged everything up, and held my breath.
This year, we raised over $2100. More than the last two years combined.
I don't know what I did to get so lucky to know these people. When people ask me why I throw myself into Weetacon so hard, it is because I need to make sure I'm holding up my side of our friendships.
This year, I drank mostly water (with the exception of one very yummy apple shot delivered by Boyd via a pole extended out over the crowd) at the Bad Bar night, a night that typically sees a lot of wild drunken abandon. I was fully within my faculties and struck by the number of people who came over and confessed how much better their lives are because of Weetacon.  I would have normally blown it off due to "I Love You, Man!" tendencies, but the number, the sheer emotion–it was an eye-opening thing. It's not just a party but rather the spirit of the gathering, the people they've met because of it and the concept of a chosen family. Suzanna likes to call it a Tribe, and I have to agree with her. It's our Tribe
I need to start paying attention to these little things that seem like so many nothings that, to quote one of my favorite movies, mean a lot more than so many somethings. And while I will absolutely not take credit for it, maybe it's doing its part in making the world a better place too. Maybe the world really just got a millionth of a percent better because of these fabulous people.
If so, then that's a pretty good thing. I'll take it.