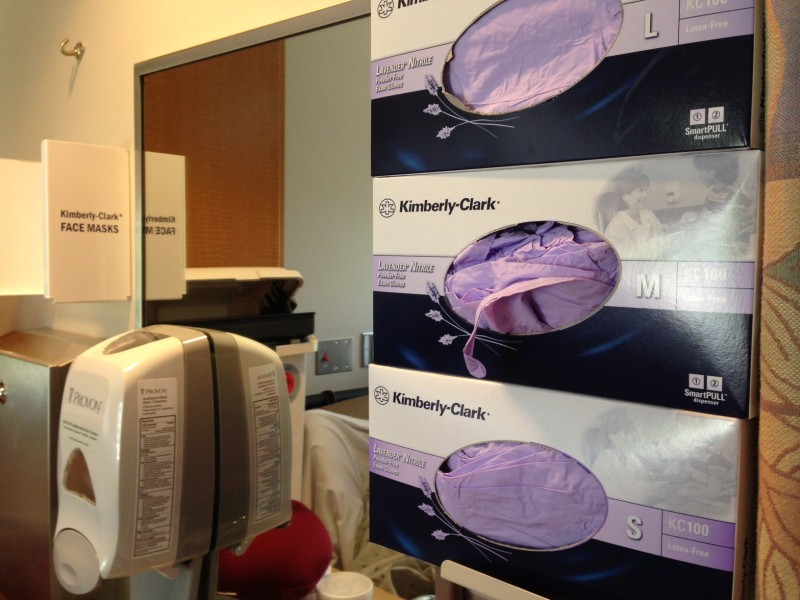 I've been staying at a non-profit family housing facility near the hospital. I worked for a homeless shelter through undergrad and there are facets of communal living that I understood from an administrator's point of view but am now seeing from the other side. How important it is to have toilet paper and clean up your space. How weird it feels. How every single item in the place has the psychic energy of hundreds of people who came before you. How vulnerable you feel. How grateful you are to have a place that understands what you're dealing with and that you might just burst into tears at a moment's notice.
It's a nice place. It's named after a young lady who died well before her time. Her portrait hangs in the large common room, always lit with a spotlight, so that when I come back late at night, it's usually just Kathy witnessing it from above the fireplace.
There are a lot of signs with homilies and Hallmark card sayings on them, posted around the place. One about a caterpillar becoming a butterfly. One about how God is handling your problems today. One about how life is beautiful in all forms and all stages. No matter where you look, you can't escape the fact that death is hard work for everyone.
I rarely see people in the common rooms. In the same room as Kathy's portrait, there's a piano and an organ, complete with sheet music that no one ever plays. Every time I walk through, I have the urge to see if I still remembered Pachelbel's Canon in D by heart, but of course, I leave way too early and I come back way too late to disturb the rest of the residents with my crappy piano skills.
There's a family of Amish (which is my shorthand for whatever plain clothes, beard shaving, bonnet-free religion these people are) staying at the housing facility. They've been doing the hospital thing for almost as long as we have. I knew that their loved one was also named Esteban and that he was also in the ICU, but I didn't ask questions. I never want to intrude, even though I'm terribly curious about them.  I  just knew it was bad. I knew that he didn't look like he did normally. I knew that it was bad enough that they called in relatives and church members who traveled from all over the country to ring his bedside in the ICU and prayed in unison, both adults and children from tallest to very very smallest, all with perfect braids and little stiff formal plain clothes suits.
In the elevators, sometimes I cautioned a casual question about how Brother Esteban was doing. I tell them that I'm praying for him, because I knew it would make them happy the way it makes me happy when people tell me that they are praying for my Esteban. I think about their Esteban all the time, and hope that he's getting better the way that my Esteban is getting better. I worry about him, being in the ICU so long, way way longer than my Esteban, who left the ICU still incredibly sick. If he were still in the ICU, it had to be because Brother Esteban was in peril.
The Amish family and I bump into each other in the kitchen in the mornings and usually late at night too.  A kind of camaraderie has developed. We each know that we're the long haulers, that we're each experiencing the kind of nightmare that these people with their three day stays can't even imagine. They're sprinting and we're each in the midst of our own marathon, with a finish line that is promised just around the next bend but always is just a little bit farther.
Friendships develop there, even though I feel like I'm only in the common areas long enough to swap out my Joint Juice and Lifewater out of the fridge, grab a bagel and sometimes make some iced coffee. The hospital has a very renowned brain specialist and it seems like almost everyone is there for chiari malformation surgery. One of my favorite ladies had flown in from Washington for her daughter's chiari surgery. The people who moved out of my suite a month ago were from Kentucky and they were there for their 8-year-old daughter's chiari. Someone else was in from Baltimore for the same surgery who is leaving today.
A week went by without bumping into the Amish family and I started getting upset, worrying that Brother Esteban never made it out of the ICU. But then I saw them again and was so relieved, which is silly, because I don't even know their names, just the name of their son.
Jan, the lady from Washington, actually conspired with me to make spaghetti supper for the household. I gave her some cash to help with the ingredients since she was willing to do the cooking, because I didn't expect to be at the house for it. I crawled around the through the community food cupboards, containing all the food left by people who have checked out, and grabbed all the things that could possibly make spaghetti sauce for her, so that she wouldn't have to get down on the floor and stoop. She reminds me of Ann Richards, with a regal kind of sophistication but at the same time warm and awesome. She teared up when I talked about Esteban's organ failure.  Every time we see each other, we ask about our patients and offer encouraging quips about how nice it will be once this is behind us.
Last night, I ended up staying later than usual at the hospital, due to late visitors. Now that I've been actually sleeping at Kathy's House (instead of using it as a mid-day shower and clothing change while sleeping in a chair in Esteban's hospital room) I haven't gotten to see our night shift nurses as much. My favorite PCT, Eric, reminds me so much of Michael that I can't help but adore him (and my favorite nurse Laura reminds me so much of Allison that I favor her for the same reason) and I heard his voice out in the hall, running this way and that, and got happy because I hadn't seen him for about three weeks. Esteban decided to walk me to the door, as part of his stamina building, and we bumped into Eric in the hall, racing with a portable vitals unit, to another patient.
He said "Hi Wendy!" and I said "Eric! I heard your voice and was hoping I would bump into you and get to say hi." And he parked the vitals unit, then said "Now Esteban, don't get jealous!" and gave me a huge hug.
It is perhaps a sign that we've been here too long when the staff actually has a chance to miss you if they haven't seen you in awhile.
This morning, I slept in. It was a rare event, because I almost never manage to sleep longer than six hours straight (except for the Saturday night when I rudely abandoned M. Giant after dinner and had a record-breaking 11 hours of sleep). Nine beautiful hours of sleep. I got dressed and exited my suite, feeling happy with myself that I managed to have dreams that didn't involve medical tubes or the ICU or miserable doppelgangers of childhood bullies in white lab coats.
The minute I opened the door of my suite, I heard the piano music. Someone was playing it! Perhaps we had new residents? The pianist was smooth and confident and a crowd had gathered in the large communal room. As I turned the corner, I saw the Amish parents sitting in the chairs nearest the piano.
The pianist was a young gentleman in pajama pants. He had a black eye patch and his head had been shaved but had about three weeks growth. His hair was not yet long enough to hide the transorbital twelve-inch scar that crossed his skull like a girl's headband, nor the staccato of black sutures across the incision.
The Amish lady saw me and mouthed "This is our Esteban!" The boy played from memory, the corners of his mouth curling up as he ran through the classical piece from memory. He had been helping his community build a house and had a massive brain injury. The surgeons said that he had only a 5% chance that he'd still be the same Esteban if he survived, but there he was, his mother told me, the same Brother Esteban that he was all along.
The piano was an Everett and his mother told me that it was her sign that he would make it, because the Amish Esteban's middle name was Everett too. It was a sign, she was certain. It was a sign. He would play that piano and here he was, playing it. Right there in that moment.
It was too much for me. Too much all at once. Jan saw me starting to tear up and came over to give me a big hug. "It's such a beautiful thing. Good news for everyone! It's going to be the same for your Esteban, I just know it. I love you!" and then she told me that her daughter had been released the night before and that they were flying home at noon today. It was a happy morning for everyone. I was so glad for them all, these people who have been through so much. It felt a lot like all happy endings, like graduations and V-J Day. You feel all the emotions because it was a lot of hard work and now it's over. It's almost over.
The less you can control, the more you look to signs. The more you get superstitious. The more that mundane things have meaning. You get the Turkey of Health. You cry the second time that REM's "It's the End of the World as We Know It (and I Feel Fine)" is on the radio in a 24 hour period. The more that the brand name of a piano begins to resonate with fate, the more that you listen to a sign on the door reminds you of caterpillars and butterflies.
Today we heard two more four-letter-words from our surgeon.
Home. Soon.
I might have to start believing in signs too.