They say "What the heart loves, the will chooses and the mind justifies."
This past January, I was planning a trip to Chicago with my brother – a reward for his making the Dean's List the previous semester at college – when Esteban was off picking up our pug from doggie daycare. When he came back, he had a horrified expression on his face and said "Oh my god, I may have just totally fucked up our lives and I'm so sorry."
Did he crash the car? Did he quit his job? My brain went to a million dark places, but instead, he said "There was a puppy at daycare. Someone surrendered her and they handed her to me and then I said 'We'll take her.' And I'm so sorry. I told them I had to talk to you first. She has epilepsy and that's why the people didn't want her. We don't have to take her. We really don't. I won't be upset."
"What kind of puppy?" I said, my eyes narrowing.
"A French bulldog." He made a helpless face. "They didn't tell me she was homeless until they handed her to me. I shouldn't have picked her up. It's my fault. She's ridiculously cute. Like… it's a super power or something." He sat down on the couch and cradled his head in his hands.
I ended up not going to Chicago that weekend because suddenly? We had a seven-month old French bulldog.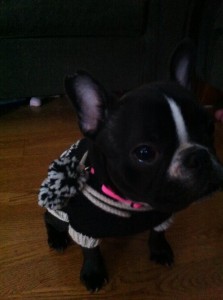 We discovered that her former owners had kept her in her crate for extended periods of time, so she was not potty-trained, not socialized and had actually been untrained not to foul her own bed. Also, she had seizures. And apparently wheat and corn allergies — which the former owners never really understood, thus exacerbating the diarrhea problems that led to messing up her crate. Said diarrhea led to the former owners using toxic cleansers in her crate that they thought might have caused the seizures, thus they were afraid to bring the dog into the vet to get treatment for the seizures.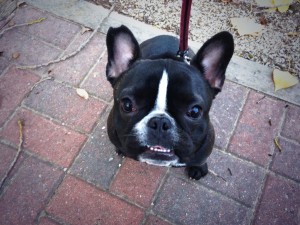 We named her Zuzu.
Zuzu didn't understand that going potty was done outside. She didn't look at people. She wasn't treat motivated. She just wanted to play and sleep and pee on the floor two minutes after coming back inside.
We made great progress with Zuzu through the winter. She got a little older, which helped a great deal with the bladder control, and we had the bonus facet of a pug who is amazingly well trained. Zuzu loves Avi more than she'll probably ever love Esteban or myself. When Avi does something, Zuzu does it too. She figured out that we pee outside and poop outside and hanging out with the peoples is pretty okay too. We got her seizures under control, bringing them from 6-12 per day to about one breakthrough episode every thirty to forty days, which the vet feels is totally manageable.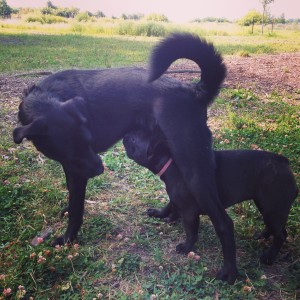 Then, unfortunately, Esteban got sick. That meant Zuzu and Avi went to Grandma and Grandpa's house. For Avi, that was awesome! She loves Grandma's house! She gets to do whatever she wants and bark at those fucking dachshunds next door. For Zuzu, though, this was yet another place that she'd been shipped to, with more new people that she didn't really know and a new routine that she didn't understand and who didn't make her sit before eating and wait for the humans before going into doorways. It was, in essence, her fifth home that we knew of in her little short life. She regressed. Then we came back and rerooted her again – and she regressed again.  Then we moved to a new house.
Zuzu hopes that you won't feel bad for her. Zuzu doesn't feel bad for her. Zuzu thinks that she's awesome. Avi is awesome. Peanut butter is awesome. Barking is awesome. Also, bulldogs are awesome.
We found that it made more sense to have her medication compounded into a liquid form by a pharmacy in Milwaukee. This made it easier to give her two daily doses because she tended to hide the pills in her substantial inner cheek flaps. Of course, in the process, this transformed a very cheap medication into a suddenly super expensive medication that needed to be refrigerated, but ah well, the things we do for the pets we love.
The side-effects of the medication aren't minor – she is more lethargic and more difficult to train on the Pheno Barb. After her dose kicks, she basically takes a two hour nap, but it keeps the seizures at bay and we have the ability to be more patient than the drugged bulldog is stubborn.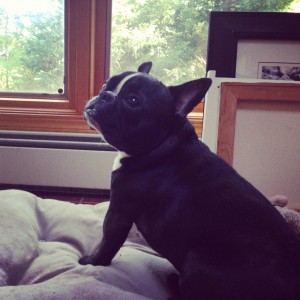 Earlier this week, she seemed particularly playful. We chalked it up to her feeling more comfortable in the house – that maybe she had really never felt right since before Esteban's illness and was finally feeling like this was home. Esteban even remarked a few times "Are you sure you gave her the Pheno?" when she'd be springing around, acting like a damned fool (a mode we call "Stinky Boing Boing") and in general, totally charming and also, hilarious. During one such episode, she was boing boinging around so fast that she actually ran into my foot with her mouth, effectively biting my toe and giving me a nasty contusion. Because bulldog!
Then on Thursday, she had a seizure. We were glad that we had decided to stay home on Thanksgiving, gave her a rescue remedy and hoped that would take care of it. Then she had another one that knocked her flat on the floor where I found her, sprawled and unable to stand. I held her for hours, soothing her, gave another rescue remedy and figured that there'd probably be another small one.
On Friday, there were two more seizures. We started to suspect that the latest refill of the compounded medication wasn't up to par, given that her new energy coincided with the new bottle, so we called our vet and got the same medication in pill form. Unfortunately, her seizure medication takes a while to build up in the system before it really works.
On Saturday, I gave a preemptive rescue remedy, as with multiple seizures, we want her to go 24 hours without having one before we stop. Unfortunately, she had two seizures in short order, and then another two. We had friends over and we all took turns holding her to try to calm her down enough to administer the rescue remedy but she just was stuck in postictal tremors and panting. Then she finally seemed to calm down but before we could dose her, she had three seizures in rapid succession.
Then things went downhill quickly.
I was worried that having people in the house was upsetting her, so I put her in her crate (which is actually what we're supposed to do, according to the vet, but since she has crate anxiety from puppyhood, I tend to hold her instead, which seems to calm her). Ten minutes later, she was wheezing and struggling for breath. I ran to the crate and saw that she was clearly asphyxiating.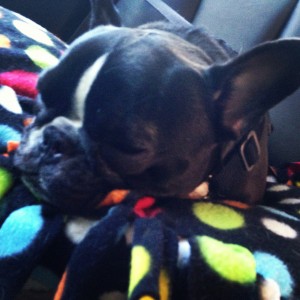 You know how when you're in an insane hurry to get somewhere, everyone drives like a fucking moron? They hesitate at green lights and text and smoke and talk on their cell phones and seem to have no sense of urgency whatsoever? And it's enfuriating? Imagine holding a dog in your lap, a dog whose tongue is actually turning purple because she can't get a breath and the fucking emergency vet is a 20-minute car ride away. Then you're going to be trying to give mouth-to-mouth to a dog while serially hate-staring every idiot who had the bad idea to be joy riding on a Saturday afternoon while wishing you had a rocket launcher to encourage them to fucking move when the light turns green already.
Every minute of that car ride, it felt like Zuzu was about three seconds away from shuddering and going still. Thankfully, we made it to the emergency vet, where they were already waiting outside and holding the outside door open, thanks to Esteban's quick thinking to call ahead while we were driving.
As they took her from my arms, they asked if they had permission to do whatever was necessary to save her life, including intubating and resuscitation. I nodded, because I couldn't talk for fear of crying, but when the vet's assistant's second comment was "Even if you understand that resuscitation starts at $500, will you be able to pay that today?" I couldn't stay strong anymore. After the vet's assistant disappeared with Zuzu behind the ER door, I went to the counter to fill out paperwork and then basically lost it at the reception desk. I kept thinking about the people would have to actually stop and think about whether they could afford to save their pet's life in such a situation, and about how I remember being in such a position twenty years ago myself, how you hope and pray your pet is just the kind of sick that needs medication and not the kind of sick that needs needles and overnight stays and surgery, because then you'll have to own up to the fact that you don't make enough money to keep your animal alive.
They were able to save Zuzu's life. They didn't need to intubate, as she was responding to supplemental oxygen and a sedative, but just the same, they wanted to keep her overnight. We visited her in her crate, where she would be monitored all night long, went off to get her some food, and then went back out to get her some specific new seizure medication at a people pharmacy. Then we went home and basically were upset all night, certain that we were going to lose Zuzu.
At 7:30 the next morning, the phone rang and announced that the call was from the emergency vet. My heart sank as I leapt for the phone. The vet introduced herself and started off with "Zuzu's condition improved throughout the night. She was up and eating without a problem." Vet's don't call at 7:30 in the morning for a status update… especially since they had told us that she'd be there for 24 hours of observation. It was bad news, it had to be. I held my breath, waiting for the "But…"
Except I could hear a familiar "Arf! Arf! Arf! Arf!" in the background.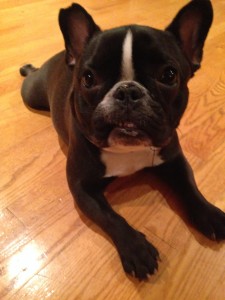 The vet continued, "Then around 4 this morning, we had another patient come in, which woke Zuzu up. Normally we like to keep them for 24 hours, but she's definitely feeling better."
"Is that her barking?"
The vet laughed. "It is! I was just thinking that if you're going to be home today and can keep an eye on her, she can come home as soon as you can come and get her."
The unspoken Midwestern translation: Lady, please come and get your annoying but insufferably adorable dog. She's upsetting the other patients.
(I'm not making this up: I just now had to go into the living room where a certain bulldog had decided to go mountain goating on the tables to check out the remote controls – and had knocked an entire table over. She knows that you're reading this and would like to say "Bulldog!")
We're getting her blood from Saturday tested to see what her levels of Pheno Barb were, and if they are low, then we'll definitely be letting the compounding pharmacy know that they sent us insufficient medication. I doubt that they'll cover the emergency vet bill — which was way more than $500 by the way, but honestly, it's a small price to pay for this face.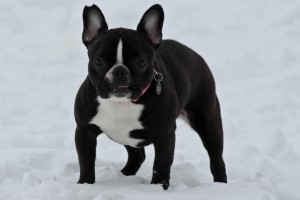 Unfortunately, we don't get to choose who we fall in love with. Not even when they are an incontinent, ill-mannered but ridiculously charming and sweet little basket case.