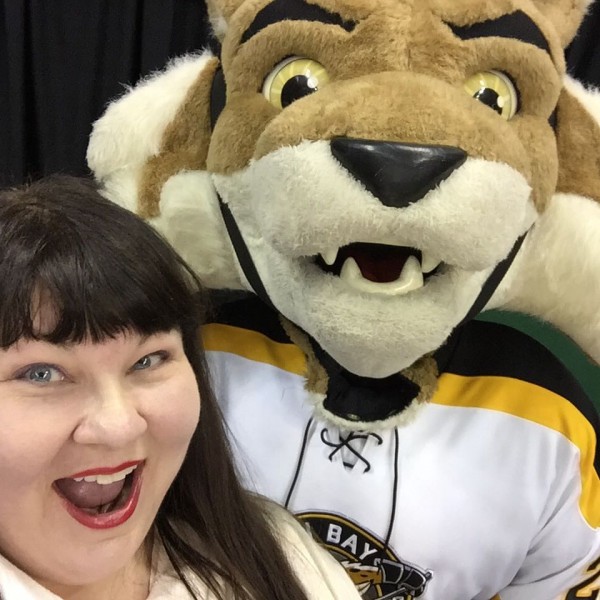 Living in Wisconsin makes you a very particular kind of human. We're extremely nice — almost annoyingly so. We value hard work and kindness over sophistication and intelligence — which is charming on a variety of levels but can be somewhat painful at times too. And in the winter when it starts getting dark by 4 pm and the roads become treacherous, we're pretty happy to bunker down and stay indoors until roughly Cinco de Mayo.
Well, unless there's a Packer game. Then it's "Cold weather be damned, I'm taking off my shirt so that everyone can see my rigid nipples on the TV!"
Here's the thing: Esteban is a really social person and is an extravert. Second, believe it or not, I'm an introvert at heart. So if Esteban is  relying on me to give him 100% of his social stimulation, that's not going to go well for either one of us. This is easy to balance in the summer, when we're going to the farmer's market every weekend and the drive in movie theatre and the dog parks and going to hang out in his parents' pool and the countless chats with neighbors who are out working in our collective yards, but in the winter, those things dry up.
Also, Esteban and I are home creatures. We like our little house and our little dogs and cat. We don't drink very much and when we do, we'd rather do it at home because otherwise one of us has to stay sober to drive home and also, our wine and scotch libraries are better and cheaper at home anyway. If left to our druthers, we too would just batten down the hatches and avoid winter all together by never leaving Chalet Bix. But this is kind of unhealthy behavior. So we made a decision. We'd make an extra effort to go out and do things during the winter. Like, make it an actual priority. Last winter, that meant that we went out and did stuff that we'd never done before, like go walk around the Botanical Gardens to see their ridiculous winter light show and setting up entertainment dates in our house for people we never get to see very often.
This year, we're upping our game. I'm going to start back up at my old pottery studio this winter (primarily so that I can make some really big bowls, which my local pottery studio can't seem to accommodate very well and also so that I can see my friend Sara more often, as that's her local studio).
And last night, we attended one of my alumni functions. They had reserved a VIP area at our local semi-pro hockey home games and the tickets were relatively cheap (plus beer and soda were free), so we decided "What the hell?" I had never been to a hockey game in my entire life. Esteban had been to exactly one about three decades ago when he was practically still in short pants.
I like ice skating! This is ice skating soccer, right? Kind of like manly ice capades?
NOPE.
Pucks. Pucks hitting the glass right in my face.
I'm super not kidding. This photo was taken from my seat. It. Was. Awesome.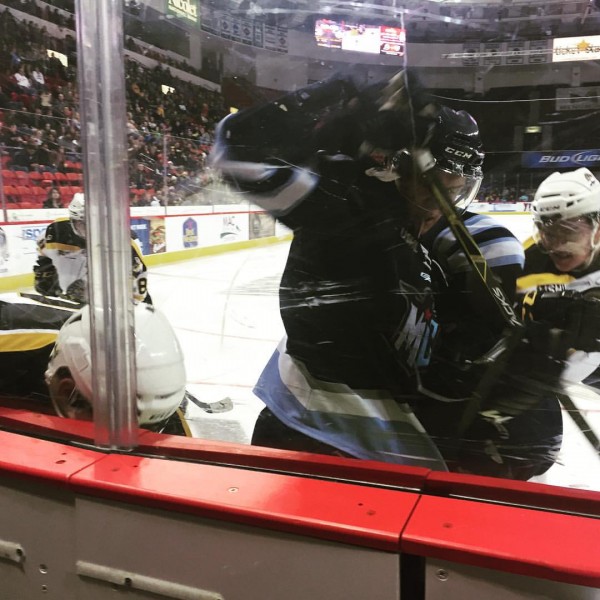 I'm not sure if I'll ever be able to watch it from the stands though… Even if you are on the glass, it can't be as good as when you can sit at your own bar table and frequently rub elbows with the mascot, the hot rink girls who do things like shoot t-shirts and cheese curds into the crowd with a cannon (yes, that's right, they had a CHEESE CURD CANNON!) and have a private bathroom that is accessed through one of those doors marked "AUTHORIZED PERSONNEL ONLY!" because we were authorized, baby. Authorized up the wazoo.
So hockey. I like it. Who knew? Next up, I want to go to a Blackhawks game, although Esteban has his eyes on the Milwaukee team, to which I said, "Sure, what the hell?"
So our Winter Wonderful Year 2 agenda is off to a flying start. We are planning on tromping through the Botanical Gardens again next week and then, of course, Christmas is going to be a socialization fire hose, so that's going to be a good time. We're entertaining at our house on Christmas Eve AND Christmas Day — I may have to burrow into a hole on Boxing Day and not come out for several days after that until my introvert energy stores are recharged.
Unless we get another chance to go to a hockey game, of course. That was kind of the shit.