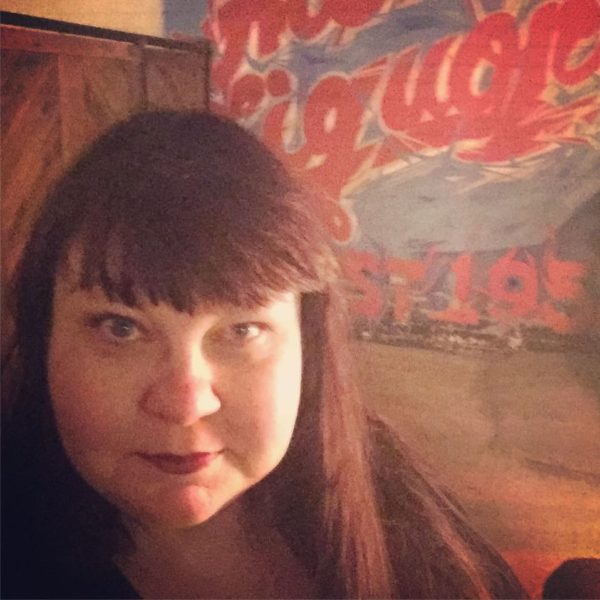 Fridays are always light days at school. The biggest "work" stress in my life right now is the problem of finding a place to park on campus, but since there aren't a lot of classes scheduled for Friday, the parking ramp that I use does not fill up, so I'm usually not in a super rush to get to campus. Usually I make a really giant latte and drink it on the way to school every morning, but we were out of milk. No milk = no latte. We hadn't gone grocery shopping recently because I abscond with our only vehicle every day and am gone for ten to twelve hours at a stretch and usually when I get home, my remaining energy is reserved for school homework, grading or watching reruns of Holiday Baking Challenge on Hulu. (Bill was robbed in Season 1, you guys, straight up robbed of his title from a human cartoon character who was basically the unholy union of Guy Fieri and Alvin the Chipmunk and who was basically treating the entire thing like an extended audition for her own Food TV spot.)
So I was forced to run through Starbucks for a latte. What I SHOULD have done was go to the store and buy some milk for the same price of a latte and fix the problem myself but I've been in a pique ever since my car was declared a terminal case and the whole Senate tax bill vote threatens the lives and existences of so many people who make less than $500,000 a year (and if you continue to believe that you're not under attack by 52 people sitting in the Senate, enjoy your self-identity as a temporarily disadvantaged millionaire for as long as you can because you are simply one terrible life event away from bankruptcy, and hopefully that terrible life event isn't a disease that is being researched by graduate students, because a cure ain't coming soon, honey.)
My Friday is a quiet morning of office hours (in which I sent two students "Doom" emails as they have missed more than 20% of the classes, which means an automatic F according to the syllabus, and they need to see me about making up some of those absences before the doomsday clock runs out during exam week) followed by a three hour "How to Teach" class that is required of all graduate students who teach without having a Masters Degree. Now, I have a Masters Degree, as do about six other people in that class but the Powers That Be decided we needed to take the class too, so there we sit.
Class ended up being kind of fun — instead of the normal slog through pedagogy lessons on rhetoric and composition education, we had a panel of current youngish tenured professors giving advice about the job market, grad school success strategies and general teaching advice. One of those professors is teaching a class I've signed up to take next semester — she's a 21st Century literature expert (which feels weird to write, since we're at only Year 17 of that genre) — so it was doubly interesting to hear her teaching zeitgeist knowing that I'm going to have to endure it next semester. We ended up having such a good discussion that we basically never got to the planned coursework for the day, which meant that I did my homework for nothing. Oh well, I guess I probably learned from it or something. Wisdom. Feh.
After school, I headed home and did the tiniest bit of school and charity work and then Esteban popped into my office and suggested that we go try to get some car shopping in before the sun set and it got too dark or cold to deal with it. We headed up to the big "car dealer row" on Sahara and just started knocking them down. I learned that I talk big game about wanting a roller skate that gets me from Point A to Point B but when it comes right down to it, I am less inclined to like a little car that feels smushy. Also, now that I've been studying negotiation techniques, it was fascinating to watch the car salesmen try to use persuasion tools on me. They negged my trade in (deserved), tried to confuse the issue by selling to the payment of the car versus the price of the car (that trick is only viable if you don't understand math, but nice try), tried to get me to fill out financing paperwork "just to see" (Nope), and kept trying to find out more information about how I was financing which of course has NO BEARING on how I decide which car to buy, but it was a way that they could find out more information about me to use in the pitch. They also negged my questions about lower-priced vehicles by implying that I was a higher quality buyer and not some college student or "first time buyer" and kept trying to direct me to new cars. Nope. Not going to work, buddy. I'm in no mood for your foolishness.
We tooled out after three car lots and I think three test drives (Honda CRV, Hyundai Tuscan, and a GMC Terrain) and many many butt drives (where you sit in the car and close the door and say "Nope, no need to test drive this because ugh I hate everything and want to scream.") and found nothing but a growing sense of "I just want my Murano back and no car payment please."
My original plans for Friday night were to go to a Neon Lit literary reading with fellow UNLV grad students but in the middle of car shopping, I demanded cheap dinner, so we ended up waiting forever at a taco shop for food that was in fact cheap and delicious (but played havoc with my gastrointestinal system later — lesson learned about cheese and bean burritos eaten from styrofoam containers. The dinner and subsequent car salesmen lingering and obfuscating made us far later than we had planned and we were still way far from downtown, so we headed to the little indie bookstore off Fremont Street downtown and by the time we got there, we were almost two hours late, so we just went to the bar across the street which is the traditional second act of the grad school readings and just locked down an outdoor table near one of the outdoor fire columns for warmth and just hung out drinking curated cocktails for a few minutes until folks started filtering out of the reading.
Soon we were joined by many of my school friends and their significant others. Esteban made some new friends, plus got to see some of the same folks he had met at Thanksgiving. He was really enjoying the beer selections, so after my first cocktail, I switched to water so that I could drive us back, not really interested in funding a Lyft ride both to AND from home, since the truck is currently the only vehicle (the Murano is still in the shop, as we will spring it on Monday, not fixed but still with some labor costs from the diagnosis). We stayed out partying with the literary crowd until almost midnight and then I begged homeward, as I was cold, tired and hungry.
We hit a Chick Fil A drive-thru four minutes to midnight (which was just before it closed) and nabbed some chicken nuggets and milkshakes (a stupid idea, since it took me from just cold to full body shivering) and headed home, where the pug acted like we had been gone for fourteen months and she had given up hope of ever being rescued. Plus, she's on a diet, so we're only giving her exactly enough food for one day and that had long ago run dry and she was contemplating eating shoes and the leather couch next.
By the time I got into bed, I was absolutely exhausted — too exhausted to brush my teeth, take off my makeup or put on moisturizer and old lady eye wrinkle preventer or even take my nighttime asthma meds or go get my iPad to trigger my nighttime Sleepy Time playlist which I literally play every night when I go to bed or suffer terrible insomnia. All of this occurred to me after I got into bed, and to which I said "Aw fuck it." And that's some tired, let me tell you, because I also have a bedside caddy on my night table that contains additional old lady eye wrinkle preventer, asthma medication and makeup remover towelettes for EXACTLY THIS SITUATION and even so, I DNGAF. Sorry, Past Bix, you tried. You tried.
Happily, I was tired enough to sack out even without clean teeth and the magical playlist, although my dreams were weirdly stressful with highly dramatic writer socializing subtext, so while hanging out with a bunch of literary folks absolutely engages me and makes me happy, on some level I must still have to work some shit out.
In other news, Holidailies are back!