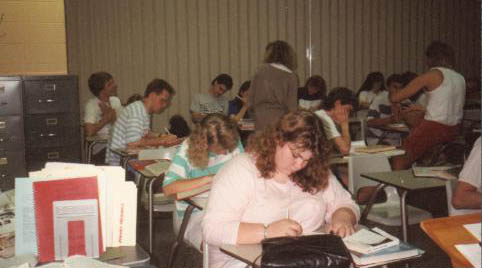 When I was a little girl, my mother and my great-grandmother were at odds when it came to my clothing. My mother felt that I should cover my nakedness, the end. Shopping with her was miserable: she would be irritated from the moment we passed rack after rack of adorable little girl clothes and headed back to the Juniors department where I would need to choose from pants that were much too old and way too long and would need to be hemmed or shirts that were way too mature for the elementary school. It wouldn't do to have a sexy nine-year-old, so she usually opted to go to even OLDER sections of the store, looking into matronly styles in ridiculous polyester fabrics that she herself would never have been caught dead wearing. There were at least two incidents where I recognized a duplicate of a shirt I owned being worn by a retiree at church. It's the kind of "Twinsies!" moment that you never want to experience.
My great-grandmother felt the opposite: it was not OUR fault that the selection was crap, it was all on the lousy stores for not stocking the right stuff! When she'd find something for me that fit and was cute, she'd buy one in every color, even going to other locations of that store to stock up. While my mother didn't feel it was worth it to spend money on clothing for me, hissing that I was going to outgrow it anyway, my grandmother was not adverse to ordering from the JCPenney catalog, something our family felt was only for rich people, and then removing the boxes and shipping receipts so that my mother wouldn't know. Women in my family were always proud of their looks but she was the only one to encourage me to actually have pride in my own appearance. Maybe she was the only one who didn't consider me a lost cause.
I know so many women who resist buying clothing for the body they have right now. They feel like it's a waste of money because they're going to (pick one) lose weight/get back in shape/some future state that they aren't at this moment. I may be trying to appease the inner child for whom clothing represented a form of love, but forcing yourself to wear ill-fitting clothing today seems to be a form of weird fashion anorexia. You deserve to look pretty. Today. Right now. In this body that is sitting there, breathing in and out, reading this paragraph. That one.
Today is the final day for most of our Weetacon Igigi giveaways. Head over to the Igigi at Weetacon page for an easy dashboard and enter yourself in 17 different giveaways where you can win Igigi plus-size fashion or their amazing accessories. You can win more than once! Also, on my review, I'm also giving away a $50 gift certificate for my Etsy store, Bix Photo and everyone who leaves a comment will receive a promo code for a discount too. Everyone's literally a winner! Plus, it's fun just looking at the same dress on different women. Women who may not be models, but shine with the joy of wearing clothes that love the bodies they have right this moment.
*Yes that's me in the photo, senior year in high school, wearing one of 10 of the exact same t-shirts that my great-grandmother purchased me, along with one of 3 pairs of pants I owned, all of which could be mixed and matched to create some crazy number of outfits. And if you were ever wondering what the hair that comes out of my head naturally looks like, there it is, along with a full set of eyebrows. There but for the grace of my stylist go I.