As you know, IGIGI is totes my favorite of all plus size fashion lines. I've been to the headquarters. I've run through racks upon racks of garments like some RomCom fashion montage. I've been styled personally by Yuliya. I'm not bragging: I just want you to understand that I am an unabashed IGIGI devotee, hands down, so with that, know that going into this product review.
The lovely ladies of Weetacon were given the opportunity to road test some of IGIGI's winter and spring line this year, as I mentioned in an earlier post this month. So very cool! I was thrilled, because I am a firm believer in supporting businesses and causes I believe in and love giving back to a company that has made me and others feel so good about ourselves. I believe we all use our talents to make the world a better place and while I think my conduit might be Weetacon, it's clear that Yuliya Raquel is making the world a better place via fashion.
When Igigi told us to pick out our top three choices, I had only one word for them: WRAPS. Give me the wraps. I have several (I almost said a number but then realized that it's oversharing and also, reveals a little too much about my OCD shopping fetish) Igigi wraps and I wear the hell out of them constantly. They are truly investment pieces and would I have realized that when I bought my first plain LB wrap dress, I would have bought four more of them because it's always on the pile to go to the dry cleaners.
Let's face it, Yuliya OWNS the plus size wrap ouevre. Okay, I don't want to hear about DVF: yes, she's great, love her, but she doesn't make for my body, and there are countless plus-size lines who are now making wraps but they DO NOT FIT RIGHT. That doesn't make sense, right? Everyone loves wraps because supposedly they fit every body type! And yet, I have two wrap dresses in my closet this very instance with the tags on them, because the patterning was upsized poorly and the shoulders are not hanging where they should and it makes me ANGRY because it's like $300 worth of unwearable crap taking up space and I missed the return grace period so I'm stuck with them.
It all comes down to skill and understanding a plus woman's body. Garments from lesser manufacturers may fit fine if you are a size closer to the original pattern (probably size 14 but some of them size from their regular line) but the further away you get, it's all about the skill of the patternmaker and the process they use. For instance,
traditional fashion designers pattern using a "nested doll" method, which makes sense: a size 10's armpit isn't going to be egregiously far off from a size 4's, the difference between those sizes being anywhere from 15-30 pounds on the scale, depending on height. However, the difference between a size 14 woman and a size 20 could be 100 pounds or more but it doesn't mean that our shoulders have gotten tremendously wider. If you just layer up on the patterns, suddenly our shoulder seams are hanging by our elbows and our necklines are way too wide. Bad scene. And that's why plus lines will typically stop at size 20 or 24: because in order to offer the bigger sizes, they have to make an entirely new pattern. They can't just keep tracing around the little original pattern they were using for size 14. That's the IGIGI difference: they size up the right way, taking into account the simple laws of a woman's anatomy. Brilliant! And thank god someone finally figured it out!
Here's the Boulangerie in Merlot Grape, which got the most compliments of all three garments I wore during and after the Weetacon fashion show. I absolutely love the color and the fabric is very luxurious and thick, perfect for getting away without undergarment lines (or hey, get away without any undergarments at all!), reminding me of the quality and workmanship of a Burberry trench coat. Because it is a true wrap, you can cinch it into your waist exactly where it needs to be for a great fit. I didn't heed my own advice and compare my measurements to the IGIGI size chart and really should have gone down a size, but since it's a wrap trench, I'm getting away with a good fit and don't look like I'm swimming in it. Keep in m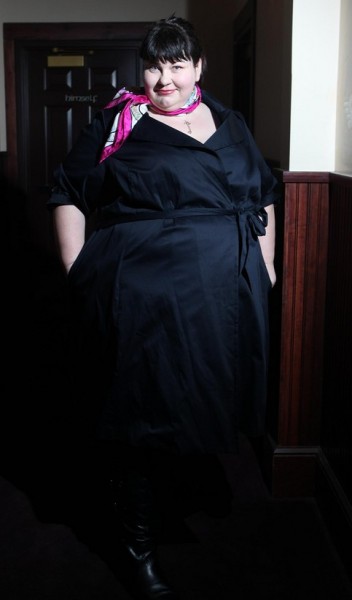 ind, also, that this was hastily thrown on in a dark, unheated stairwell behind the scenes at the Weetacon fashion show while dodging elbows and legs of my fellow IGIGI models so it's a bit more of a "Just got off the jetway from Singapore" than your everyday look.
My next dress was the Boulangerie Wrap Dress in Richelieau Blue. It's a very deep blue, almost a blacky navy that only really looks blue in bright lights. It's like SURPRISE! You thought I was wearing a black dress, but you were wrong! Since it's the same as the dress above (TWINSIES!) I get a double dose of awesome. What's very cool about this is the way you can change the look by varying the accessories. Also, I invite you to be jealous over the great strappy D-ring detail on the 3/4 length sleeves and also, POCKETS. God, I love me some jaunty pockets. Also, this is one of those dresses that goes great on different body types:  Fredlet is probably five inches shorter than I am, and Ladyloo has got at least three inches on me, and yet follow those links and you'll see they are rocking the hell out of the very same dress!
The last time I saw Yuliya in the IGIGI headquarters, I was raving over the spring lines fabrics, still on the bolt in the staging area, but I had no idea those prints would be so artfully realized. Sachi Printed Wrap Dress in Blue — two patterns on the same dress! SO FASHION FORWARD. I'm sorry, I can't stop shouting but the  made me squeeee! when I opened the box in the week leading up to Weetacon and actually sent me running into the bedroom midday to try it on. And then I whined via IM to my Weetacon cohorts that I really really really wanted to wear the Sachi before Weetacon because it was JUST SO GORGEOUS DOOCE CAPS. I didn't, because I follow the rules, even my own, but still, oh, it was painful ! It's just so beautiful. Also, pockets! And a low v in the back! Check out the back view on Suzanna D! I am actually considering buying this one in Merlot too, because I can predict that when it sells out, I will cry for months. For reals,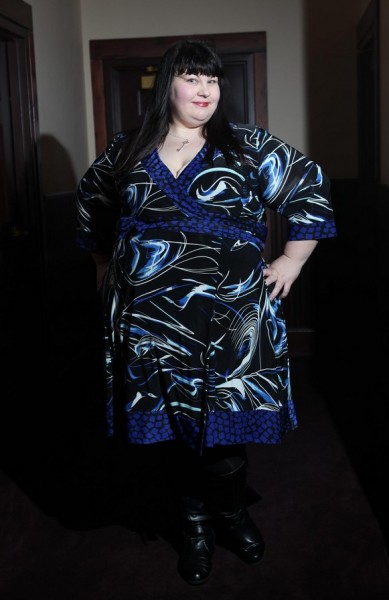 you guys, I love this dress. Design aesthetic aside, let's talk practical: it's so soft and silky and impossible to wrinkle!
I have often said that once a season, Yuliya makes one garment that looks straight into my heart and answers some unspoken question. This is it. When I saw the Fashion Week videos, I thought that heart-stealer was going to be the Tres Chic in Black and White (and check out how great it looks on so many different body types at Weetacon!), and while I do love the Tres Chic, my heart absolutely belongs to the Sachi. We'll be married in June. It will be an intimate affair, just family and very close friends, I hope you'll understand.
Were you reading the above with seething jealousy in your heart because who the hell is Wendy Bix to get all of these great clothes  free just because of stupid old Weetacon grumble grumble mumble crap? Admit it. You were. It's ok. I would be grumpy too, and might have a headache after reading the previous paragraph from all the eye rolling (I'm sorry, I know, but I really love the Sachi that much).
Well, here's the sitch: go to the IGIGI website, pick out a dress you'd love, and come back here and leave a comment telling me which one you want and where you'll wear it. One lucky commenter will win a $50 IGIGI gift certificate! But wait, there's more! Visit the other Weetacon IGIGI reviews, leave comments on THOSE entries and you'll be automatically entered in their drawings for additional $50 IGIGI gift certificates. No lie. Leave a comment, get a chance. We are not limiting the number of gift certificates that a single person can win, so that's a LOT of fashion dollars to possibly win!
Maybe you should pick out a couple of garments, just in case?
Also, just to sweeten the deal, I'm going to also draw from these comments one winner who will get a $50 gift certificate for my Etsy shop. And all commenters will receive a 10% off discount code to use until June 1. So win-win-win!
The fine print: You must leave me your email address so that I can get in contact with you to tell you that you won. You must leave a comment by midnight on April 7th, 2011 to qualify for the random drawing and you must promise to do one awesome thing to make the world a better place today (recycling your water bottle or telling someone they are pretty counts)! That's it!