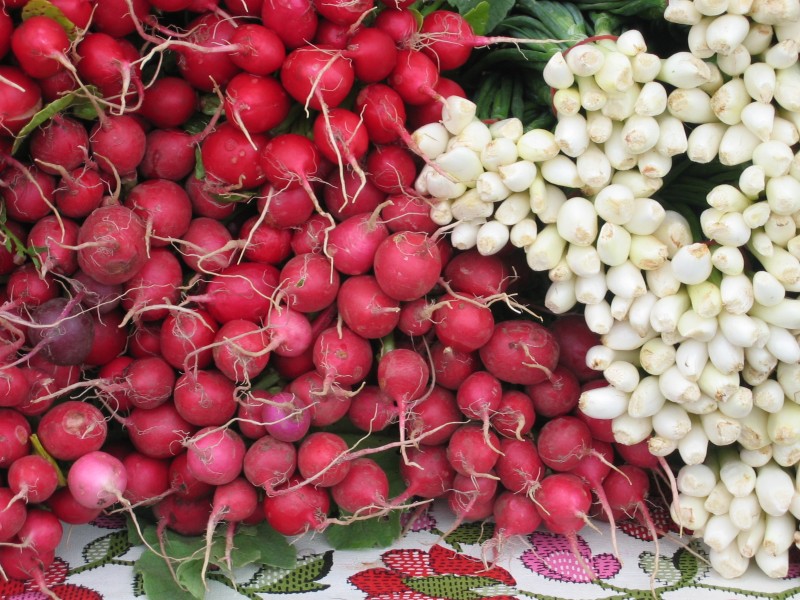 One of the side benefits of my new (well, six months old) job is that the hour or so that I used to spend commuting to and from the office is the make or break hour for planning ambitious meals. Not that we've been ambitious, mind you, but we certainly do more eating at home now and there are far fewer "I don't want to cook, let's order a pizza" nights than there used to be.
(Also, in case you're the nosy type, I along with a few of my fellow Double Income No Kids friends are tracking all of our nightly dinner adventures on the Twitter feed DINKdinners.)
It's also prime Farmer's Market season, so every Saturday, Esteban and I are waking up early and scurrying down to the big market where we scope out the produce, and then we typically head out to what I call "the good meat place" to get some kind of animal protein for the week.
This week, I was in the mood for skirt steak. Oooh, marinated with cilantro and garlic and lime and maybe a little Vulcan Fire Salt for the hell of it? Yeah, that was just about perfect. Unfortunately, skirt steak isn't terribly popular here in the land of Hamburger Helper and cream o'mushroom soup chuck roasts in the crock pot, so we headed over to one of the other meat counters that is reputable and doesn't give me the vapors. They were out of skirt steak, but of course the almighty chuck roast was on sale and actually looked pretty good.
You should know that I've been fooled by chuck roasts before, so many times, and yet, I keep going back for more. Come on, baby, look at all of this marbling! they call out to me. They are like that ex-boyfriend who you know is a cheating asshole but you keep taking him back because he smells so nice and looks so adorable when he smiles and shows those dimples. I know better and yet, I just keep setting myself up for disappointment.
I had random delusions of turning it into burrito filling, but of course, didn't follow through and ended up making your run-of-the-mill boring ass pot roast. And even after putting extra effort into it, applying all manner of flavor-building spices and aromatics, it STILL tasted super pedestrian. I mean, it was tasty, but tasty in a Swanson's dinner kind of way.
Why do I do this? No, the question is why do I keep doing it? Even as pot roasts go, the chuck roast will never be as good as other cuts of meat in the same application. As far as I can tell, chuck roast exists for one purpose only: to be ground up and turned into meatloaf or braised with a bunch of cumin and chiles to later become an ingredient in burritos.  I even once followed Thomas Keller's pot roast recipe to the letter which involved wine and a mirepoix and kitchen twine and a slow braise in my French oven — even after all of that, it was so underwhelming that I think I actually heard snoring coming from the carrots on the plate.
So tell me, commenters, what are your no fail super exciting and oh-so-delicious chuck roast recipes? Save me from another boring dinner! Tell me what I'm missing because generations of housewives and church lady cooks before me cannot possibly be wrong!
Also, you have until July 15th to enter to win a Wendy Bix 16×20 photo print! Details over on this post!