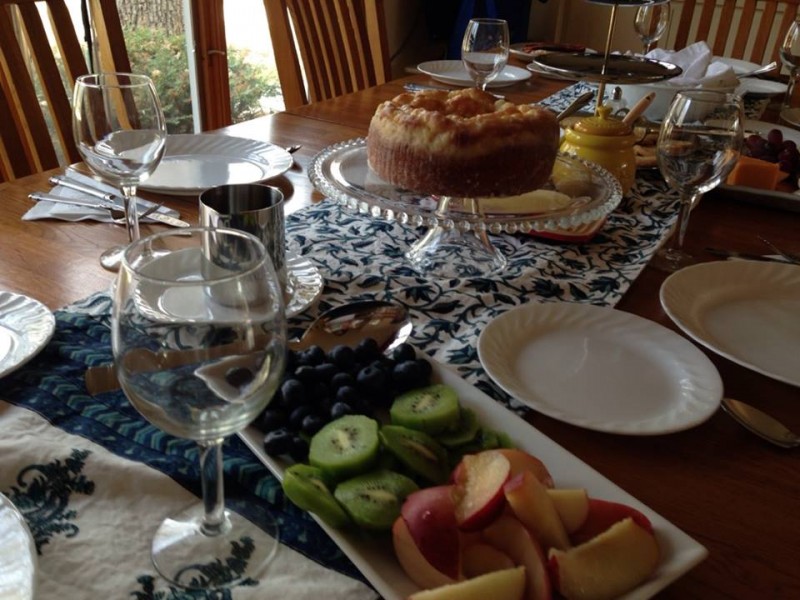 After six months of subsisting on Campbell's Cream of Mushroom soup, once Esteban could finally eat regular food, he took a lot of delight in trying new recipes. He basically cooked All The Things over the last six months. Some of these things were super winners — his beef stew is one of my favorite dishes, but it's so hard to pick, since his taco short ribs are TO DIE FOR. Some of them (*cough… tavi kosi *cough) never need to be attempted again.
Strangely enough, when you are trying lots of new recipes, you're less inclined to want to go out to eat. That's a side benefit, because with my irregular income and the double mortgage thing, I feel better with a little cushion in our bank account.
It's not like I really understood that we were in a recipe rut before his surgeries and hospital stay, but we certainly had nights where the idea of another bowl of chili was pretty damned uninspiring.
Plus, sometimes I'd make something and it would be delicious, but then two weeks would pass and it would kind of fall out of our memory. But when Esteban started experimenting, he approached it like a true experiment and took notes. Lots of notes. He then encouraged me to start noting all of the recipes that live in my yed.
One of those is KFC Crock Pot chicken. Inspired by Stephanie O'Dea's recipe, I have been dutifully noting and tweaking the ingredients until I've come up with something that might even be a match for Thomas Keller's Per Se fried chicken — only healthy-ish.
Plus, you cook it in a Crock Pot, so it doesn't heat your entire kitchen up. The only downside is that it cooks pretty fast (at least in our Crock Pot) so you can't start this one before you go to work in the morning because it will be annihilated by the time you get through rush hour traffic.
I like to serve this with instant mashed potatoes and corn on the cob to complete the fake KFC experience.
---
KFC CRACK SPICE MIXTURE
(Makes enough for 6 chickens, or 3 chickens in brine)
2 T paprika
2 T garlic powder
1 T kosher salt
2 T onion powder
2 T sugar
1 T ground thyme
1 T dried oregano
1 T ground sage
1 T ground black pepper
½ T ground ginger
½ T  dried marjoram
½ T  celery salt
½ T  ground cardamom
Brine (Optional)
½ cup brown sugar
½ cup kosher salt
6 cups water
1/4 cup of KFC CRACK SPICE
One 5 lb chicken, whole.
Use a 6-quart slow cooker.
Brine the chicken (optional):  Place the chicken, breast side down, into a large ziploc bag (gallon size). Place the bag into a large mixing bowl. In another bowl, mix brine ingredients together until the dry ingredients are dissolved, then pour over chicken. Refrigerate in brine for at least two hours, up to 24 hours. When ready to cook, remove chicken from brine and discard the brine.
Place the chicken into the Crock Pot, breast-side down. Rub 1/4 cup of the KFC CRACK SPICE stuff evenly all over the bird, inside and out. Don't add any liquid. I know that you're worried, but trust your bird. It will be fine. Cover, and cook on high for 2 to 2.5 hours or on low for 5 to 6 hours or until a temperature probe in the thickest part of the breast reaches 165 degrees. Hotter than 180 will mean the breast meat will be dry and starting to get mealy.
The pan drippings are very flavorful and make a fantastic pan sauce. You can also throw it into your pot of boiling water if you're making accompanying pasta.
A note on the spice mixture: I consider our spice cupboard to be pretty damned impressive and even we didn't have everything we needed to compile this mixture. I doled it out the first few times but then I decided that we'd certainly make this again and again, so it just made sense to throw together a big batch and keep it in a sealed Mason jar. If you have to buy the spices for this anyway, trust me. You won't waste the spices and you're going to end up making a huge batch to keep around anyway, so just do it right away and save yourself the trouble down the road.
A note on the chicken: I've done this before with a chicken cut in half and that worked great. I also did it once with a quartered chicken and it was really difficult to position the pieces so that the dark meat was on the top, and also, it ended up overcooking the breast meat to a pretty high degree that way. So if you only have quartered chicken pieces, definitely keep an eye on that temperature probe because it has a tendency to overcook.
That's it! Let me know if you try it and also, let me know if you like seeing recipes on this page. We have a lot of them to share, but I don't want to be All Recipes, All The Time girl.