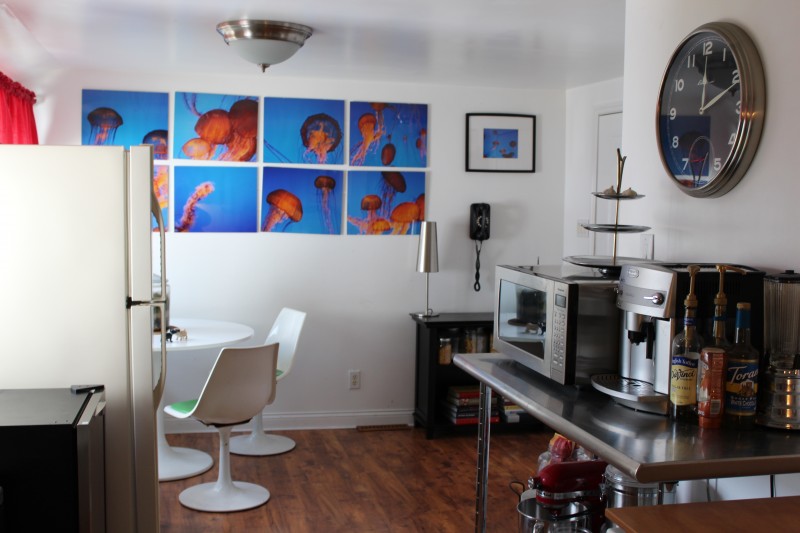 We fired our realtor this week.
Nine months with no real action on our house and it was time to let someone else have a chance. I get that we listed late in the year because of the realities of Esteban's illness and that we then experienced the worst winter the Midwest has had in decades, but it's been warm for awhile and still, nothing. Life would be a whole lot better for us financially if we could a) only pay for one mortgage instead of two; b) no longer pay to heat and cool an empty house; and c) free up all of that equity cash to, say, replace the leaking skylights in my office or paint, my god, paint every surface in this place.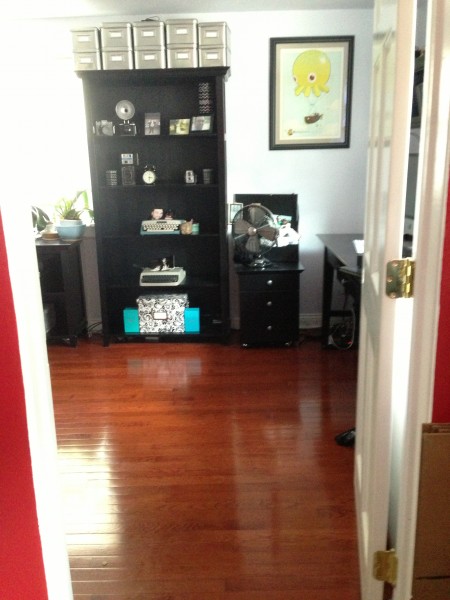 Sometimes I miss Casa Bix. The photo above was our kitchen. This was my office, with the brand new sustainable cherry flooring that I  paid for with freelance money. I love my new office but I really really loved my old office. It's cute, though, right? You'd think we wouldn't have a problem selling it, right?
(Maybe it would be easier if, say, the realtor mentioned ANY of the great stuff in the ad, instead of using the word "updated" six times in the span of 50 words. Seriously, that's a weasel word, right? When you hear "updated kitchen" on a 60 year old house, do you think "Oh, so they put in new cabinets in the 70's and they're horrible" or do you think "They put in new granite countertops and an undermount sink last year"? The first one, right? Words. This is why words are our friends.)
We met with a new realtor this week. She had an interesting spin on how to strategize and market the property. She'll have her plan of attack next week, so at that point, hopefully there will be some forward movement on Casa Bix and we can put all of our energy toward maintaining and improving the Bix Chalet.
In other news, we now have baby bunnies living in our front bed. They decimated the heirloom lettuce I had planted in containers on the front porch. They're lucky they're so damned cute. They're also lucky that I had already decided that the lettuce plants couldn't possibly keep up with my summer lettuce demands, so I'd end up buying lettuce at the farmer's market anyway.
They'll also probably be unlucky soon. When we moved in last summer, we were surprised to not see any rabbits around the house. We had every other form of wildlife but no squirrels. Then we heard the owls. We have one owl living in a dead tree in our backyard (probably a barn owl) and another one living in the neighbor's yard (probably a great horned owl). I'm trying not to get too attached to adorable tiny rabbits.
Also, a deer went into labor about 30 feet off our deck which was crazy. I think it was the mom of the twin fawns from last summer. I spotted the twins without their mom for the first time last week, so I suspect she gives them the boot when they're about to be replaced. I'm hoping to share lots of baby deer photos in the coming months, because our yard is pretty much the mom's favorite place in the world. Mostly because she's slowly consuming the entire 50-foot circumference currant bush, limb by limb. 
Also, I haven't seen or heard any turkeys in the last two weeks. I suspect that it's brooding season for them. The cuteness that is baby turkeys will probably make my head explode.
Also, we have at least one toad living in one of the gardens. It seems contrary, but I super love toads. When I was a kid, they were the only pet I was allowed (aka I didn't ask permission and just found toads, stowed them in containers for a day and then set them free after a long story about their new mission statement, which was to stay in school and live a good life). I would like to put a toad house in that garden bed, but Esteban has vetoed, as he is chief lawn mower, and doesn't want to paint the lawn in toad guts. I believe toads are smarter than that, honestly, and lawn mowers aren't exactly quiet. But then again, I managed to catch an awful lot of them as a five-year-old, so that doesn't say a lot about the toad sense of self-preservation.