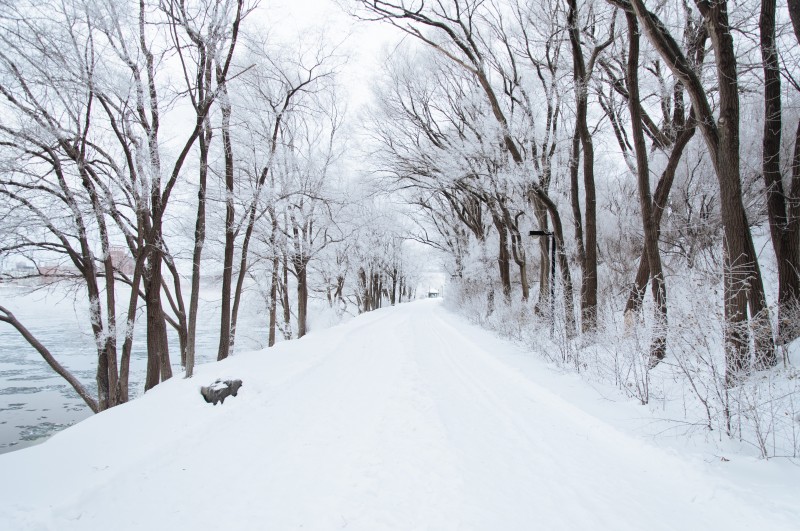 You guys, I'm excited about the Holiday Card Exchange too!  I think this is our ninth year doing this, which is amazing longevity when internet bloggery is concerned. I've also been bouncing back a few questions in e-mail, and if someone's actually asking, chances are good that more people are wondering so here's a Holiday Card Exchange FAQ!
How many cards do I have to send?
Depends on your choice and how many people sign up for the exchange. If we have more than 40 participants (which we do) then I split the exchange into two separate but equal exchanges.  When you fill out the info form, you get a choice of No More Than 40 Cards or All The Cards. If you pick No More Than 40 Cards, your name will be on one list only, and you'll send to the people on your own list (and they to you). If you pick All The Cards, then I'll send you everyone's name and you send to everyone (and they to you). Obviously, if you looked at both lists, you'd see that the people who pick "All The Cards" are on both of them. I hope that doesn't sound confusing: it's really not, but I fear that I'm making a botch of explaining it. Anyway, I do all of this business behind the scenes, all you have to do is decide do you want to send/receive 40 or fewer cards OR more than 40 but fewer than 80 cards.
But… I don't actually know you or the other people in the exchange. Is that weird to send a holiday card to someone I don't know?
That's ok! The Holiday Card Exchange isn't about knowing the people in the exchange, it's just about making the holidays brighter and putting a personal touch to a cold, hard internet.
What do you write in a card you're sending to a stranger?
How about "Happy Holidays" followed by your name? We usually suggest a fun version of correspondence (one year we had a questionnaire that I loved so much I still have all of the answers in a stack in my office) and we'll be doing that again this year, but as with everything, it's totally optional. Low stress. Lather, rinse, repeat.
Do I have to make the cards?
No! You don't have to make cards at all! Some people choose to do this, but if you aren't so much with the glue stick and just like getting the holiday booty, then feel free to print labels and use mass-market cards, whatever works for you.
Can I send holiday postcards?
Absolutely! That's a very green and economical solution!
I don't do Christmas but I like getting and cards. Is that kosher (ha! See what I did there)?
Absolutely. Send whatever kind of card you wish. If you're a Christmas-y type, send a Christmas card. If you're all about the Hanukkah, hit us with some dreidel goodness. If you are a Happy New Year! kind of person, let's see that baby in the top hat. You get the picture. This is low stress, so whatever makes you happy will make dozens of people smile!
What if I'm going to be busy before Dec 25?
Then send them after Dec 25. This is LOW STRESS, guys. I personally try to get mine out before Dec 25 and I would say 95% of all participants do too, but that doesn't mean that you have to toe the line. Again, it's a holiday exchange: we're not going to get paranoid about rules and will give everyone the benefit of the doubt.
What if I live somewhere that is not the United States? I like cards too!
Hey! I don't discriminate. Sign up! We love pretty stamps, and of course, it might take a little longer for you to get your cards (and for us to get yours).
I heard a rumor that you send out Holiday Weetamixes that are traded on the black market like currency. Is that true?
It is! However, it is also true that I made that question up. Holiday Weetamixes will again be in production, much to Esteban's chagrin. I don't care, you guys, I LOVE them! And this year's Weetamix is going to be AWESOME, if I do say so myself (and I'm probably the only one). Also, in previous years, I've sent out the Weetamixes to Exchange Veterans only but now everyone on the exchange gets one, plus I typically shoot a bonus CD into a few Veteran envelopes, just to keep everyone on their toes.
What did I miss? Do you have any other questions about how this thing works? Hit me up, gangsta-style, in the comments and I'll respond to you there, as well as update this FAQ.
Remember, this is a limited time offer. I collect names/address until Thanksgiving in the US, or Nov 25, and then the participants start sending out their holiday goodness. Already we have 42 people signed up, but you still have time to get in on the action. Just fill out this form and you'll be all set.